The San Francisco 49ers, based in Santa Clara, California, are a professional American football team competing in the National Football League (NFL). Known for their rich history and multiple Super Bowl championships, the 49ers have a strong fan base and are a significant part of the NFL. This post provides comprehensive details about the San Francisco 49ers, highlighting their corporate address, contact information, and an overview of the team's achievements and position in professional football.
Contacting 49ers Corporate Office Headquarters HQ
San Francisco 49ers Headquarters: An Overview
San Francisco 49ers Corporate Address: 4949 Marie P DeBartolo Way, Santa Clara, CA 95054, USA
San Francisco 49ers HQ Phone Number: 1-408-562-4949
Fax Number: 1-408-727-4937
Customer Service Number: 1-415-464-9377
San Francisco 49ers Main Office: 1-408-562-4949
San Francisco 49ers Customer Care: Accessible via their website or customer service line
Website: 49ers.com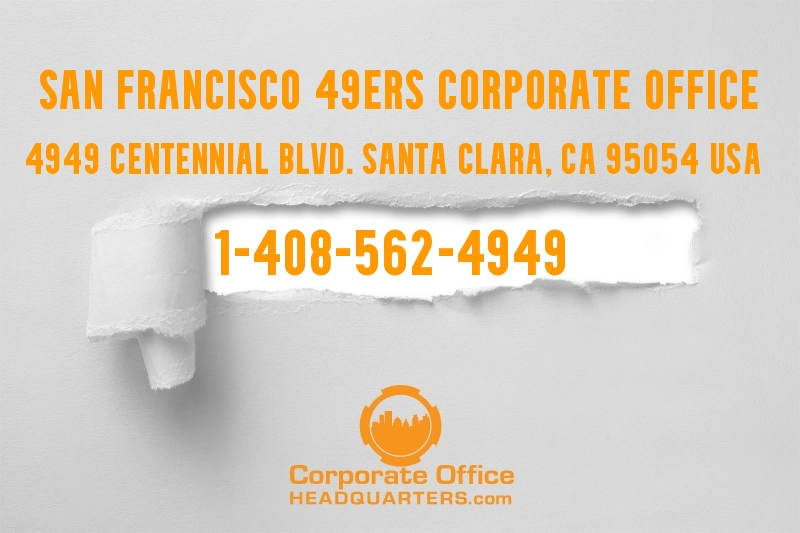 Maps and Directions To 49ers Corporate Headquarters
The San Francisco 49ers' Role in Professional Football
The San Francisco 49ers are a prominent team in the NFL, showcasing a strong tradition in professional football. With a history of competitive play and championship victories, the 49ers have contributed significantly to the sport, boasting a roster of notable players and a dedicated coaching staff. Their impact on the NFL and professional sports is marked by their strategic gameplay and enthusiastic fan engagement.
The Competitive Landscape of the NFL and the 49ers' Position
In the highly competitive world of the NFL, the San Francisco 49ers face rivalry from both national and regional teams. Key competitors include regional rivals like the Los Angeles Rams, Seattle Seahawks, and the Arizona Cardinals within the NFC West division. Nationally, the team contends with other prominent NFL franchises like the New England Patriots, Dallas Cowboys, Kansas City Chiefs, and Green Bay Packers. Despite fierce competition, the 49ers maintain their strong standing through consistent performance, strategic team management, and active fan engagement.
San Francisco 49ers Corporate Office Complaints, Reviews, and Feedback
We encourage you to share your experiences with the San Francisco 49ers, including thoughts on team performance, game-day experiences, fan interactions, and overall satisfaction with the franchise. Your feedback is invaluable, providing insights that help others understand the 49ers' operations and commitment to excellence in professional football. Whether you have compliments, complaints, or suggestions, your perspectives are important in understanding the team's impact on the sport and its fan base.
Why Trust CorporateOfficeHeadquarters.com?
CorporateOfficeHeadquarters.com aims to provide accurate and current information on professional sports teams like the San Francisco 49ers. We ensure our readers can trust us for reliable and comprehensive details.
Disclaimer
Please be aware that CorporateOfficeHeadquarters.com is not officially affiliated with the San Francisco 49ers. The content provided is for informational purposes and serves as a platform for fan reviews, feedback, and discussions.