Adidas USA, headquartered in Portland, Oregon, is a subsidiary of the global sportswear giant Adidas AG, based in Germany. Renowned for its athletic and lifestyle footwear, apparel, and accessories, Adidas is a leader in the sports industry, known for innovation, quality, and performance. This post provides comprehensive details about Adidas USA, highlighting their corporate address, contact information, and an overview of the company's services and position in the athletic wear industry.
Contacting Adidas USA Corporate Office Headquarters HQ
Adidas USA Headquarters: An Overview
Adidas USA Corporate Address: 5055 N Greeley Ave, Portland, OR 97217, USA
Adidas Head Office Germany Address: Adi-Dassler-Strasse 1 HERZOGENAURACH, 91074 Germany
Adidas USA HQ Phone Number: 1-971-234-2300
Adidas Germany Phone Number: +49-91-32842920
Adidas USA Main Office: 1-800-982-9337 (Customer Service)
adidas.com: 1-800-982-9337
Customer Service Number: 1-800-448-1796
adidas Accessories Agron: 1-800-966-7697
adidas Watches Fossil: 1-800-842-8621
adidas Eyewear Silhouette: 1-800-626-8684
adidas Cologne Coty: 1-800-715-4023
Adidas USA Customer Care: Accessible via their website or customer service line
Website: adidas.com/us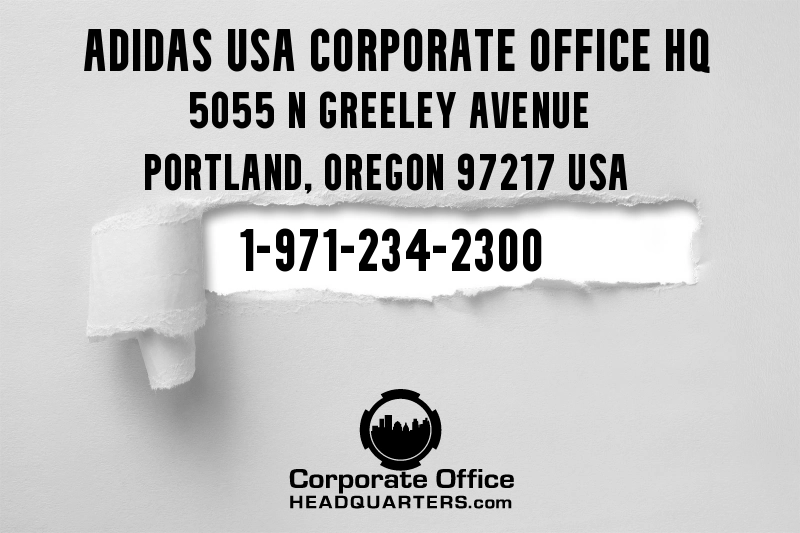 Maps and Directions To Adidas Corporate Headquarters North America USA
Adidas USA's Role in the Athletic Wear Industry
Adidas USA plays a crucial role in the athletic wear industry, offering a wide range of sports and lifestyle products. The brand is celebrated for its high-performance athletic gear, stylish sportswear, and iconic footwear, including the famous Stan Smith and Superstar lines. Adidas' commitment to sustainability, innovation, and enhancing athletic performance has solidified its status as a key player in the market. Adidas is famous for athletic shoes, apparel and equipment. Adidas's products include running shoes, sports shoes, golf equipment, boxing equipment. Adidas is one of the athletic equipment makers in the world. Alsom the Adidas group now includes Taylormade Golf and Reebok.
The Competitive Landscape of Athletic Wear and Adidas USA's Position
In the competitive athletic wear market, Adidas USA contends with other major sportswear brands like Nike, Under Armour, and Puma. Adidas sets itself apart with its unique blend of performance, style, and cultural relevance. The company's focus on technology, sustainability, and collaboration with high-profile athletes and celebrities helps maintain its strong presence in the industry.
Adidas USA Corporate Office Complaints, Reviews, and Feedback
We encourage you to share your experiences with Adidas USA's products, customer service, and overall satisfaction with the brand. Your feedback in the comments section is invaluable, providing insights that help others understand Adidas USA's operations and commitment to quality in the athletic wear sector. Whether you have compliments, complaints, or suggestions, your perspectives are important in evaluating the company's performance and product quality.
Why Trust CorporateOfficeHeadquarters.com?
CorporateOfficeHeadquarters.com aims to provide accurate and current information on corporations like Adidas USA. We ensure our readers can trust us for reliable and comprehensive corporate details.
Disclaimer
Please be aware that CorporateOfficeHeadquarters.com is not officially affiliated with Adidas USA or Adidas AG. The content provided is for informational purposes and serves as a platform for customer reviews, feedback, and corporate complaints.