Google Headquarters is located in is located in Mountain View, California. Google is the worldwide search and advertising giant, the also operate google svcsapps and Youtube. The Google head office address and more information is below.
Google Corporate Office Phone Number and Headquarters HQ
Google Corporate Headquarters Address
Google Corporate Address: 1600 Amphitheater Parkway Mountain View, California 94043 USA
Google HQ Phone Number: 650-253-0000
Google Main HQ Fax Number: 650-253-0001
Google Registered Office email Use Help Link
Corporate Stock Symbol: GOOG
Website: www.Google.com
About Google
Google is famous for internet searches and internet advertising. Google is the world's premier internet company. They have since expanded their reach into apps, smartphones, maps, web browsers, email (Gmail), and YouTube. Google HQ does not have a toll-free customer service number. However, they do offer technical support and help through forums, email, and the Internet.
Google's Position in a Competitive Marketplace
As a tech juggernaut, Google operates in numerous sectors, making its competitive landscape vast and multifaceted. Amazon, while primarily known as an e-commerce titan, competes with Google in the realm of cloud computing and smart home devices. Apple, another technological heavyweight, vies for supremacy in areas ranging from mobile operating systems to digital services. Facebook (now Meta) represents a significant competitor in the digital advertising and social networking spheres, striving to keep users within its ecosystem of apps and platforms. Even emerging platforms like TwitterX present competition as they aim to capture users' attention and engagement. These diverse rivals underscore the breadth of Google's operations and the challenges it faces in maintaining its dominant role in the digital age.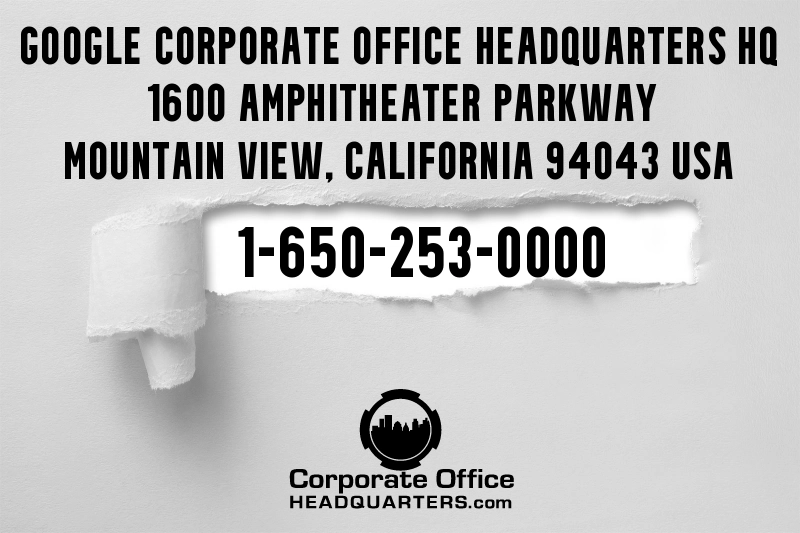 Why Trust CorporateOfficeHeadquarters.com?
"At CorporateOfficeHeadquarters.com, trust and accuracy go hand in hand. Our curated database offers vetted corporate details, from phone numbers to addresses. Users can confidently share reviews and file complaints, all within a community dedicated to corporate transparency and accountability."
Disclaimer
CorporateOfficeHeadquarters.com is not associated with Google Corporate Headquaters or Alphabet. This website is for information, reviews, feedback, ratings, and complaints purposes only. Information was verified by a live person. Please report any errors to the webmaster.
Google Corporate Headquarters Reviews and Google Complaints and Praise:
See the comment and review section below to read or write complaints, reviews, or praise your experience with Google's customer service and corporate offices.