Amazon, a global e-commerce giant, Amazon corporate headquarters is in Seattle, Washington. More contact information is listed below.
How To Contact Amazon Corporate Office Phone Number and Headquarters HQ Address
Amazon Corporate Address:
Amazon Headquarters Address: 410 Terry Avenue North Seattle, WA 98109-5210
Amazon Corporate Phone Numbers:
Amazon Corporate Phone Number: 206-266-1000
Home Office Fax Number: 206-622-2405
Amazon Customer Service Number: 800-201-7575
Corp Office of Amazon Email: Use Help Link
Corporate Stock Symbol: AMZN
About Amazon Company Bio
Amazon is famous for its retail website, Amazon.com. Amazon is the largest internet retailer in the USA. The company sells a wide range of products online from electronics to home goods.
Amazon has built its reputation as one of America's favorite retailers on its website, Amazon.com – which now boasts over 300 million users worldwide and continues to grow every single day! Users can find just about anything they want online through this company including electronics or home goods; no matter what you're looking for it almost certainly exists on Amazon. Amazon's Customer Service Phone Number is 1-800-201-7575. The company does encourage users to use their technical support system and help forums on their website.
Amazon's Competition
In today's dynamic retail and technological landscape, Amazon faces formidable competition from various industry leaders. Traditional retail giants like Walmart and Target have amplified their online presence, aiming to capture more of the e-commerce market, while online-focused Wayfair offers an array of products, especially in the home goods sector. Google, a tech behemoth, competes with Amazon not just in digital services but also in areas like smart home devices and cloud computing. Furthermore, as Amazon delves into the grocery sector with acquisitions like Whole Foods, it encounters stiff competition from established chains like Kroger and Publix, which continue to enhance their online shopping and delivery capabilities. In navigating these challenges, Amazon strives to maintain its dominant market position amidst a diverse set of competitors.
How to File a Complaint With Amazon Corporate:
When dealing with concerns related to Amazon, customers are provided with multiple channels to register their complaints. One can opt to reach out directly to Amazon's customer service for immediate assistance or connect with their corporate office for matters requiring higher escalation. For those wishing to share their experiences with a broader audience, the platform CorporateOfficeHeadquarters.com offers a dedicated space for reviews. Users can drop their feedback in the comment section below, ensuring their voices are heard and providing valuable insights for fellow consumers. Please see below: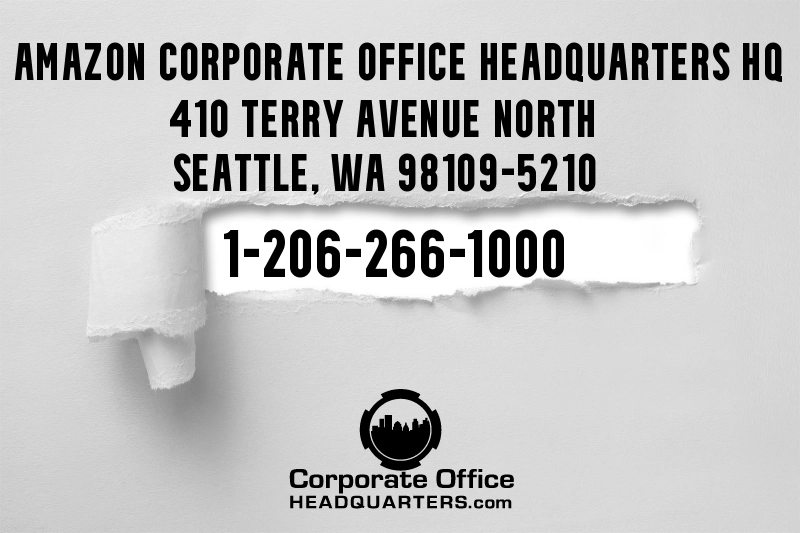 Why Trust CorporateOfficeHeadquarters.com?
"At CorporateOfficeHeadquarters.com, trust and accuracy go hand in hand. Our curated database offers vetted corporate details, from phone numbers to addresses. Users can confidently share reviews and file complaints, all within a community dedicated to corporate transparency and accountability."
Disclaimer
CorporateOfficeHeadquarters.com is not associated with Amazon. This website is for information, Amazon corporate headquarters reviews, feedback, ratings, and complaint purposes only. Information was verified by a live person. Please report any errors to the webmaster.
Amazon Corporate Headquarters Reviews and Amazon Complaints and Praise:
See the comment and review section below to read or write complaints, reviews or praise your experience with Amazon's customer service and corporate office.