Menards main office is located in Eau Claire, WI USA. More contact information for Menards is listed below.
How To Contact Menards Corporate Office Headquarters HQ
Menards Corporate Address:
Menards HQ: 4777 Menard Drive Eau Claire, WI 54703-9604 USA
Menards Employment Center
4605 Mill Run Rd, Eau Claire, WI 54703 USA
Menards General Office Phone Numbers and Websites
Menards Home Office Phone Number: 1-715-876-5911
Menard corporate office Fax Number: 1-715-876-2868
Menards Customer Care and Support Phone Number: 1-800-871-2800
Contractor and Commercial Accounts: 1-800-880-6318
Website: Menards.com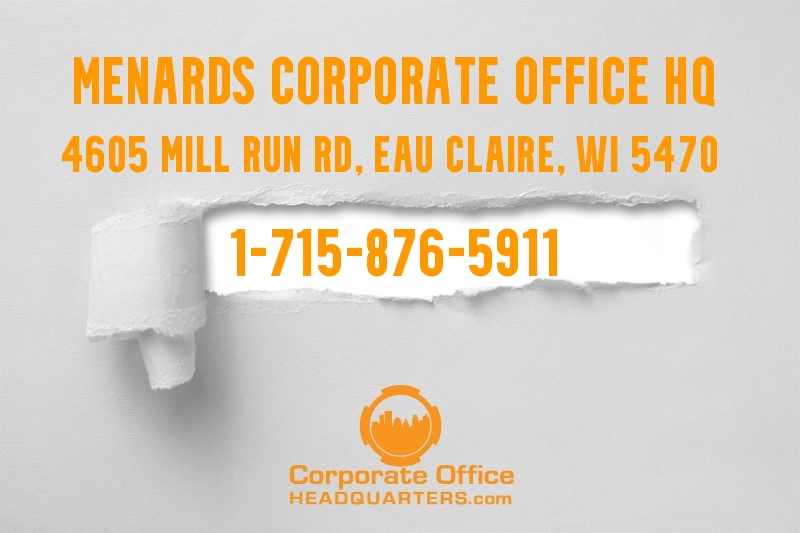 Maps and Directions to Menard's Corporate Office
Menards: An Overview
Established in 1960 by John Menard Jr., Menards has grown to be one of the leading home improvement stores in the U.S., holding its own alongside other industry giants. Originally starting as a pole-barn building business in Eau Claire, Wisconsin, Menards soon evolved to meet the increasing demands of the home improvement industry. The company has carved out a niche by focusing on providing a comprehensive range of quality tools, materials, and supplies at affordable prices. Menards' commitment to guest service, its rebate and "save big money" promotions, as well as a broad selection of merchandise, have enabled it to expand to over 300 locations across the Midwest.
Menards in the Home Improvement Landscape
In the competitive home improvement sector, Menards faces stiff competition from big players like The Home Depot and Lowe's, both of which have a wider national presence. Additionally, regional chains and local hardware stores also vie for a share of the market. What sets Menards apart is its focus on the Midwest and its dedication to providing value to its customers through regular promotions and its rebate program. However, as the home improvement industry continues to evolve with online shopping and changing consumer preferences, Menards, like its competitors, is constantly adapting to cater to the needs of modern homeowners and DIY enthusiasts. Other competitors include ACE Hardware, TrueValue, and Do it Best.
Why Trust CorporateOfficeHeadquarters.com?
"At CorporateOfficeHeadquarters.com, trust is paramount. We strive to provide accurate corporate details, from contact information to insightful reviews. Users can confidently share their experiences, voice complaints, or praise businesses, knowing they are part of a community dedicated to transparency and accountability."
Why Trust CorporateOfficeHeadquarters.com?
"At CorporateOfficeHeadquarters.com, trust and accuracy go hand in hand. Our curated database offers vetted corporate details, from phone numbers to addresses. Users can confidently share reviews and file complaints, all within a community dedicated to corporate transparency and accountability."
Disclaimer
CorporateOfficeHeadquarters.com is not associated with Menards. This website is for information, reviews, feedback, ratings, and complaints purposes only. Information was verified by a live person. Please report any errors to the webmaster.
Menards Corporate Headquarters Reviews and Feedback
Dive into our comments and review section below to share your Menards experiences, read others' insights, or provide feedback on Menards' customer service and corporate dealings. Your input aids others in making informed decisions.