How To Contact Walmart Corporate Office
Walmart Home Office Main Address:
702 SW 8th Street
Bentonville, Arkansas 72716-8611 USA
Walmart Texas Corporate Office Texas Address
5300 Westport Parkway, Fort Worth, TX USA
Walmart Headquarters Phone Numbers and Contact Pages
Walmart Corporate Phone Number: 1-800-925-6278 or 1-479-273-4000
Corporate Fax Number: 1-479-277-1830
Email Help & Chat: info@wal-mart.com
Website: Walmart.com
Jobs: Online Job Listings
Corporate Stock Symbol: WMT
Walmart Company Profile and Bio:
Wal-Mart is famous for its large home and grocery stores worldwide. Walmart Corporation sells products through its website, Walmart.com.
Walmart's main competitors are Target, Costco, Publix for Groceries, Best Buy for Electronics and Amazon.
Address: 1102 SE 5th St, Bentonville, AR 72712, USA
Phone Number: 479-273-4000
Fax Number: N/A
Email: Click Here
Number of Employees: 2.2 million
Established: June 13, 1945
Founder: Sam Walton
Key People: Doug McMillon, Greg Foran
Walmart offers online support, email support and phone support. Walmart's customer support phone number is 1-800-925-6278. Their support hours are 24/7 – 24 hours a day, 7 days a week.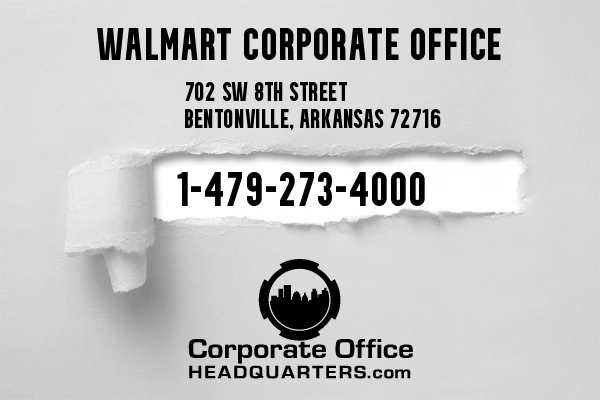 CorporateOfficeHeadquarters.com is not associated with Wal-Mart. This Website is for informational and review and Complaint purposes only.