Publix Corporate Office is located in Lakeland, Florida. Publix is a grocery store chain based in Florida. More contact information is listed below.
Reach Out To Contact Publix Corporate Office Headquarters HQ
Publix Headquarters Address
Publix Lakeland Office – 3300 Publix Corporate Parkway Lakeland, Florida 33811 USA
Publix Corporate Number – 1-863-688-1188
Customer Care Phone Number: 1-800-242-1227
Website: Publix.com
Publix Corporate Office Address – Mailing
PO Box 407 Lakeland, FL 33802-0407
About Publix Super Markets
Publix Super Markets is a notable player in the American grocery industry, founded in 1930 in Winter Haven, Florida. Publix corporate office headquarters is located in Lakeland, Florida, Publix has established itself as an employee-owned supermarket chain that places a strong emphasis on customer service and community involvement. The company operates over 1,200 stores across the southeastern United States, including Florida, Georgia, Alabama, Tennessee, South Carolina, North Carolina, and Virginia. Known for its clean, well-organized stores and a wide range of quality products, Publix aims to provide a superior shopping experience to its customers.
Publix's Competition
Certainly. In the increasingly competitive landscape of the American grocery industry, Publix faces stiff competition from a variety of rivals each with their own business models and customer bases. Kroger stands as one of the largest supermarket chains in the U.S., offering a broad range of products similar to Publix. Aldi, on the other hand, appeals to budget-conscious consumers with its no-frills approach and discounted items. Walmart brings its massive scale and extensive product offerings into play, making it a formidable competitor. Albertsons and H-E-B are significant players as well, with a strong regional presence and a focus on quality. Costco and BJ's Warehouse attract customers with their bulk-purchase options and membership-based services. Whole Foods targets the organic and natural foods market, aligning with a health-conscious demographic. Lastly, Meijer offers a hybrid grocery and department store experience, broadening its appeal to a wide range of consumers. Each of these competitors challenges Publix's market share, pushing the company to continuously innovate and adapt.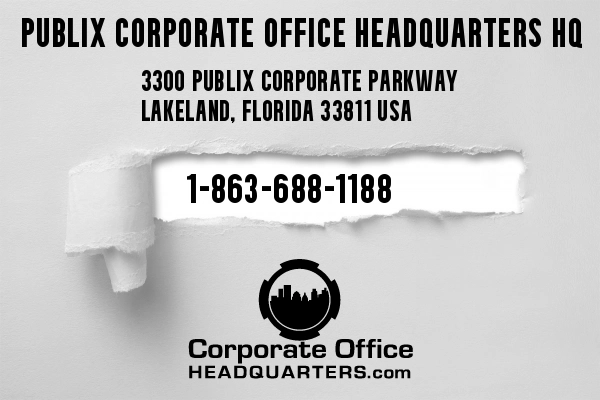 Why Trust CorporateOfficeHeadquarters.com?
"At CorporateOfficeHeadquarters.com, trust and accuracy go hand in hand. Our curated database offers vetted corporate details, from phone numbers to addresses. Users can confidently share reviews and file complaints, all within a community dedicated to corporate transparency and accountability."
Disclaimer
CorporateOfficeHeadquarters.com is not associated with Publix Corporate Office. This website is for information, reviews, feedback, ratings, and complaints purposes only. Information was verified by a live person. Please report any errors to the webmaster.