The Ritz Carlton Corporate Office is located in Maryland, USA. Below you'll find further details to contact Ritz Carlton, including their corporate office address, phone numbers, and websites. Additionally, there are customer reviews and Ritz Carlton Hotel complaints.
How to Contact Ritz Carlton Corporate Office Headquarters
Parent Company
Official Corporate Address for The Ritz Carlton
Ritz Carlton HQ – 7750 Wisconsin Avenue
Bethesda, MD 20814 USA
Ritz Carlton Phone Numbers and Contact Information
Ritz Carlton Headquarters Phone Number: 301-547-4700
Fax Number: 801-468-4069
Reservations: 1-800-542-8680
Customer Support Phone Number: 1-800-542-8680
Website: Ritz Carlton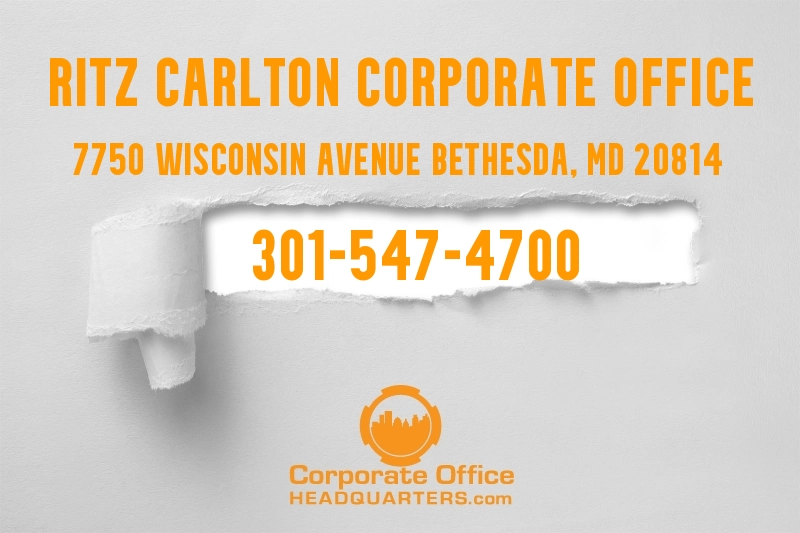 The Ritz-Carlton: Delving into its Esteemed History
Tracing its origins back to the early 20th century, The Ritz-Carlton has long been synonymous with unmatched luxury and timeless elegance. The brand's story began with the celebrated hotelier César Ritz, often hailed as "the king of hoteliers and hotelier to kings," who established luxurious hotels in London and Paris that quickly became the gold standard for elite accommodations. In the subsequent decades, The Ritz-Carlton name expanded across continents, solidifying its stature in the hospitality industry. Each Ritz-Carlton hotel offers a meticulously crafted experience, with an unwavering emphasis on personalized service, sumptuous amenities, and attention to detail. Over the years, the brand has collected numerous accolades and awards, underlining its position as one of the most prestigious hotel chains globally.
Marriott International's High-End Hotel Brands
Marriott International is not just recognized for its mid-scale accommodations but also stands as a paragon in the luxury hospitality sector. The Ritz-Carlton epitomizes opulence, offering guests an unrivaled experience in sophistication and personalized service. St. Regis, another jewel in Marriott's crown, merges timeless luxury with modern elegance, known for its bespoke butler services and lavish surroundings. JW Marriott presents refined luxury tailored for both leisure and business travelers, prioritizing intuitive service and beautifully crafted spaces. The W Hotels brand captures the essence of contemporary chic, blending vibrant design with upscale amenities. Finally, Edition Hotels, a collaboration with Ian Schrager, infuses boutique charisma with the scale and operational expertise of Marriott. Collectively, these high-end brands underscore Marriott International's prowess in delivering unparalleled luxury experiences around the globe.
The Ritz-Carlton's Luxurious Competitors
Navigating the echelons of luxury hospitality, The Ritz-Carlton finds itself among a select group of competitors that also promise unparalleled opulence and indulgence. Names such as Four Seasons, St. Regis (also under Marriott International), Waldorf Astoria by Hilton, and Rosewood Hotels & Resorts are often cited in the same breath when discussing ultra-luxurious accommodations. These brands, like The Ritz-Carlton, have a storied history and a reputation for delivering experiences that often exceed guests' already lofty expectations. As global travelers continue to seek out exclusive and memorable experiences, The Ritz-Carlton and its peers are perpetually refining their services, offerings, and experiences to elevate luxury to even greater heights.
Why Trust CorporateOfficeHeadquarters.com?
"At CorporateOfficeHeadquarters.com, our dedication to integrity and precision remains paramount. Our platform offers a comprehensive database of corporate details, ensuring users have access to accurate contact information and more. Here, users can confidently share reviews, recount their experiences, and register complaints, all within a community that champions corporate openness and accountability."
Disclaimer
CorporateOfficeHeadquarters.com is not affiliated with The Ritz-Carlton or Marriott International. This site is intended strictly for informational, review, and complaint purposes.
The Ritz-Carlton Corporate Headquarters Reviews and Feedback
Explore the comment and review section below to pen your insights, voice complaints, or extend accolades about your experiences with The Ritz-Carlton's exemplary customer service and corporate office.