Hilton Worldwide, Inc.: Hilton Hotel corporate office is located in Virginia, USA. More information to reach out to Hilton is listed below, including their address, phone numbers, and websites. Also, customer reviews and complaints.
How To Contact Hilton Worldwide Corporate Headquarters HQ
Hilton Corporate Office Phone Number: 703-883-1000
Fax Number: 703-883-1000
Hilton Customer Service: 800-445-8667
Fax Number: n/a
Hilton Hotel Reservations: 800-445-8667
International Callers: 800-774-1500
Website: www.Hilton.com
Corporate Website: Hilton Corporate
Hilton Hotels Corporate Office Address and Contact Information:
Hilton Head Office:
7930 Jones Branch Drive McLean, Virginia 22102 USA
Hilton Canada Head Office:
5830 Campus Road, Suite 200 Mississauga, ON L4V 1G2 CANADA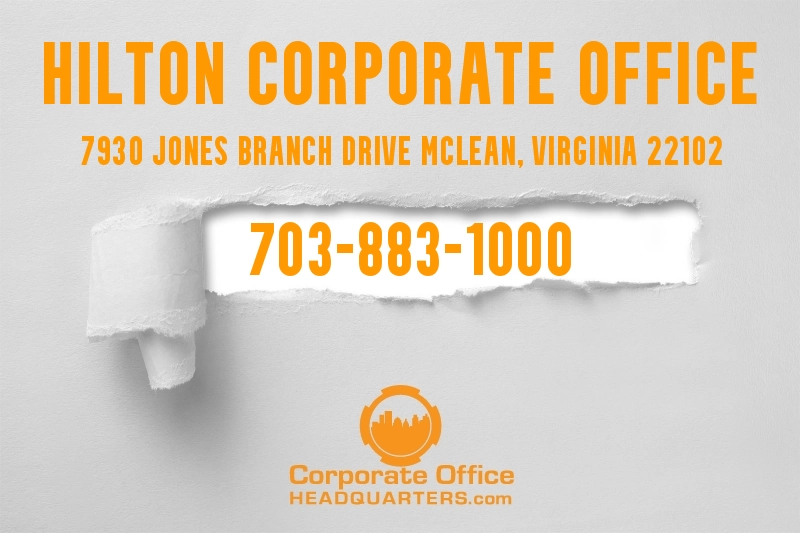 Maps and Directions To Hilton Hotels Corporate Office in Virginia
Overview of Hilton Hotel Brands
Hilton Worldwide, often simply called Hilton, holds a significant place in the global hotel industry. It's been around for many years and, over that time, has introduced a variety of hotel brands to meet different needs. For instance, Hilton Garden Inn and Hampton are known for providing reliable services, while Home2Suites and Homewood Suites offer extended stays. Doubletree stands out with its warm cookies and comfortable rooms, and Embassy Suites offers more spacious accommodations. On the more luxurious end, Waldorf Astoria and Conrad provide upscale services and amenities. Lastly, Tru by Hilton targets a younger demographic with its vibrant and cost-effective approach. Together, these brands represent Hilton's diverse approach to hospitality.
Hilton's Competitors and Their Notable Brands
In the ever-evolving world of hospitality, Hilton faces competition from several esteemed hotel chains, each boasting their own signature brands. Marriott International, a key rival, has made waves with brands such as Ritz-Carlton, Sheraton, and JW Marriott. Another notable competitor, InterContinental Hotels Group (IHG), is known for its popular Holiday Inn, Holiday Inn Express and Crowne Plaza brands. Meanwhile, Hyatt's portfolio includes recognized names like Park Hyatt and Hyatt Regency. Accor, a major player in the global scene, offers brands ranging from the luxury Sofitel to the more budget-friendly ibis. Lastly, Wyndham Worldwide has a broad reach with brands like Ramada and Days Inn. Each of these companies, with their diverse brands, challenges Hilton's dominance in the hotel sector.
Addressing Hilton Corporate Office Complaints
Hilton, being a renowned global hotel brand, is not immune to feedback, both positive and negative. For those with concerns specific to their Hilton experience, there are various avenues to voice Hilton complaints. Guests can choose to directly call Hilton's customer service line, send a written complaint via mail to their headquarters, or use online platforms for communication. Additionally, for those looking for a broader audience, the CorporateOfficeHeadquarters.com website offers a dedicated comment section where users can share their experiences and feedback. This platform encourages transparent discourse and helps potential patrons gain insight into others' experiences.
Why Trust CorporateOfficeHeadquarters.com?
"At CorporateOfficeHeadquarters.com, trust and accuracy go hand in hand. Our curated database offers vetted corporate details, from phone numbers to addresses. Users can confidently share reviews and file complaints, all within a community dedicated to corporate transparency and accountability."
Disclaimer
CorporateOfficeHeadquarters.com is not associated with Hilton Worldwide. This website is for information, reviews, feedback, ratings, and complaints purposes only. Information was verified by a live person. Please report any errors to the webmaster.