DoubleTree Corporate Office is located in Virginia, USA. More information to reach out to DoubleTree is listed below, including the DoubleTree corporate office address, phone numbers, and websites. Also, customer reviews and DoubleTree complaints.
How To Contact DoubleTree Headquarters Address and Phone Number
Double Tree Corporate Office Locations
DoubleTree Corporate Address:
Double Tree Home Office – 7930 Jones Branch Drive McLean, Virginia 22102 USA
Doubletree by Hilton Corporate Office Phone Numbers and Contact Pages
Doubletree by Hilton Headquarters Phone Number: 703-883-1000
DoubleTree Main Office Fax Number: n/a
Doubletree Hotel Phone Number for Customer Service: 800-222-8733
Reservations: 800-445-8667
Email Help & Chat
Website: www.DoubleTree.com
Corporate Website: Hilton Corporate
Jobs: Online Job Listings
Corporate Stock Symbol: HLT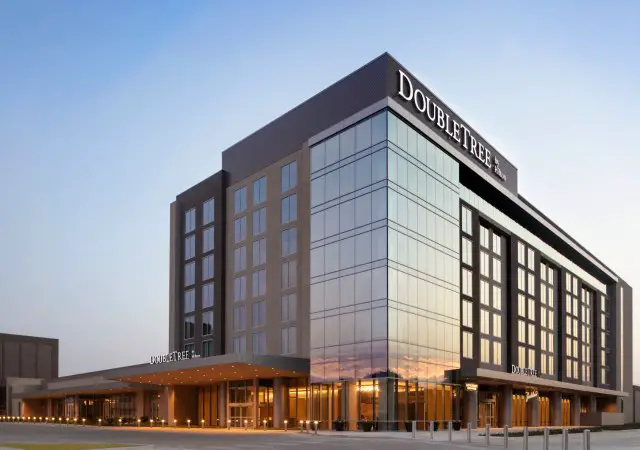 DoubleTree by Hilton: Company Bio
DoubleTree by Hilton is a fast-growing chain of upscale hotels and resorts, and it forms part of the extensive portfolio of brands managed by Hilton Worldwide. The brand is renowned for its attention to detail, warm service, and perhaps most famously, its signature chocolate chip cookie that guests receive upon check-in.
Origins: The brand began its journey as a single hotel in Scottsdale, Arizona in 1969. Over the decades, it has expanded its footprint, not only across the United States but also internationally, encompassing urban, suburban, airport, convention, and vacation destinations.
Founder: The first DoubleTree hotel was not initiated by Hilton but was incorporated into the Hilton family later in its history. While it wasn't started by a single iconic founder like some hotel chains, the brand has grown and evolved thanks to the collaborative efforts of numerous key players over the years.
Key People: As part of the Hilton Worldwide family, DoubleTree has benefited from the leadership of several industry stalwarts. Christopher J. Nassetta, the President and CEO of Hilton Worldwide, has played a significant role in steering Hilton's many brands, including DoubleTree, towards continued success. Under his stewardship, and with the combined efforts of many other Hilton executives, DoubleTree continues to enhance its reputation for exceptional hospitality.
Brand Signature: Beyond its hotels' aesthetic appeal and service standards, DoubleTree stands out with its unique tradition of gifting each guest a warm chocolate chip cookie upon arrival. This small gesture has become symbolic of the brand's commitment to a personalized and caring guest experience.
Today, with hundreds of locations around the world, DoubleTree by Hilton stands as a testament to enduring quality, innovation, and the power of a warm cookie to make a traveler feel right at home.
DoubleTree Headquarters Address 7930 Jones Branch Drive McLean, Virginia 22102 USA
Doubletree Hilton corporate Office Phone Number: 703-883-1000
Fax Number: N/A
Email: Click Here
Number of Employees: N/A
Established: 1969
Founder: N/A
DoubleTree Hotel Corporate Office Directory – Key People: 
DoubleTreee offers online support, email support and phone support. Doubletree corporate office phone number is 703-883-1000. Their support hours are 24/7 – 24 hours a day, 7 days a week.
DoubleTree Hotel's Competitive Landscape
DoubleTree by Hilton, a renowned hotel brand, faces a dynamic and competitive landscape within the hospitality industry. In the upscale hotel segment, it competes with established names like Marriott, Sheraton, Holiday Inn Express, Fairfield by Marriott, and Hyatt. These competitors boast extensive global networks and loyalty programs, challenging DoubleTree to consistently provide exceptional guest experiences. Additionally, boutique hotels and Airbnb have emerged as formidable contenders, catering to travelers seeking unique and personalized accommodations. DoubleTree must continually innovate its services, maintain high-quality standards, and leverage the strength of the Hilton brand to stay competitive in this ever-evolving market.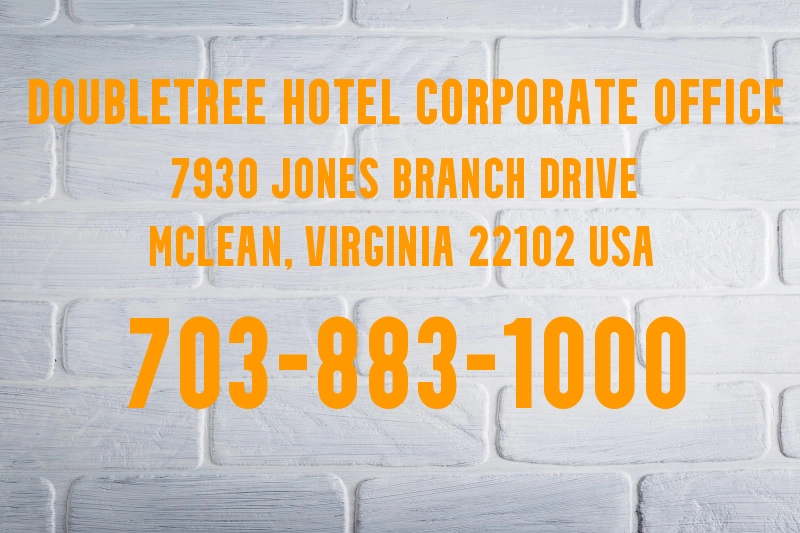 Why Trust CorporateOfficeHeadquarters.com?
"At CorporateOfficeHeadquarters.com, trust and accuracy go hand in hand. Our curated database offers vetted corporate details, from phone numbers to addresses. Users can confidently share reviews and file complaints, all within a community dedicated to corporate transparency and accountability."
Disclaimer
CorporateOfficeHeadquarters.com is not associated with DoubleTree. This Website is for informational and review and Complaint purposes only.
DoubleTree Corporate Headquarters Reviews and doubletree corporate office complaints and Praise
See the comment and review section below to read or write Doubletree complaints, reviews or to praise your experience with DoubleTree's customer service and corporate office.