Love's Corporate Office is located in Oklahoma City, OK USA. More information to reach out to Loves Travel Stops is listed below, including the Loves Travel Stops corporate office address, phone numbers, and websites. Also, customer reviews and Loves complaints.
How to Contact Loves Corporate Office Headquarters HQ
Love's Travel Stops
Loves Headquarters Office Address
10601 N. Pennsylvania Ave. Oklahoma City, OK 73120 USA
Loves Home Office Phone Numbers and Contact:
Corporate Phone Number: 1-405-751-9000
Love's Corporate Office Human Resources: 1-405-751-9000
Fax: 1-405-749-9110
Customer Service Number: 1-800-655-6837
Loves Roadside Assistance: 1-800-655-6837
Email: Online Only Help Page
Website: Loves.com
Loves Customer Service Hours:
Monday – Friday 8am – 5pm CST; closed Saturdays, Sundays & Holidays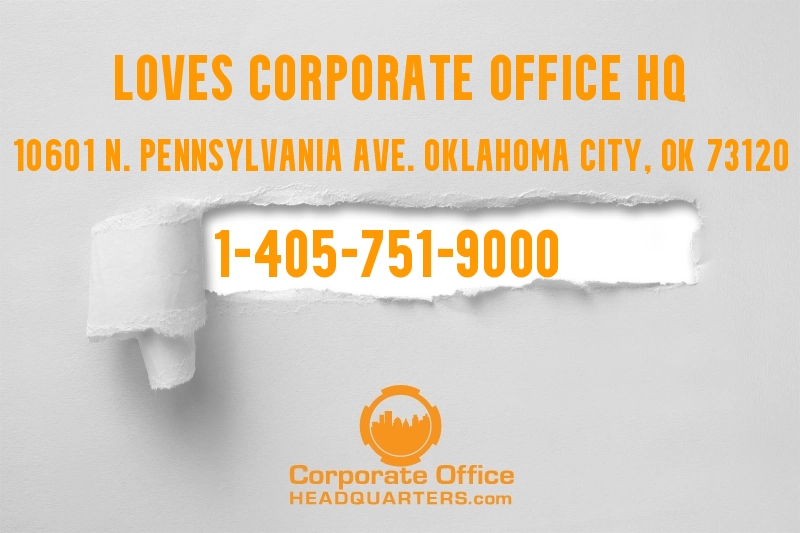 Map and Directions to Love's Head Office
Love's Travel Stops & Country Stores: Fueling America's Roadways
A Brief Overview of Love's
Founded in 1964 by Tom and Judy Love, Love's began its journey as a humble gas station in Watonga, Oklahoma. Over the decades, it evolved into a nationwide phenomenon, now recognized as one of America's most trusted travel stop brands. Initially a gas and convenience store, Love's rapidly expanded its offerings in response to the evolving needs of America's motorists and truckers. Today, with more than 500 locations spread across 41 states, Love's provides professional truck drivers and motorists with 24-hour access to clean and safe places to purchase gasoline, diesel fuel, travel items, electronics, snacks, and more. Their Tire Care and Truck Care centers also offer roadside assistance and maintenance to ensure the journey remains uninterrupted.
Love's and Its Unique Position in the Market
In an industry dominated by large fuel conglomerates and franchise-operated gas stations, Love's has carved out a distinct niche for itself by offering a comprehensive range of services tailored to both regular motorists and professional truck drivers. Beyond just fuel and food, many of Love's locations feature amenities like showers, truck parking, and even on-site restaurants featuring brands like Hardee's,  Subway, Arby's, and Godfather's Pizza. Additionally, their commitment to customer service, epitomized by their "Clean Places, Friendly Faces" promise, has been a key factor behind their widespread acclaim and trust. In an ever-competitive market, Love's continues to set the benchmark for travel stops, ensuring that those on America's roadways are always well catered to.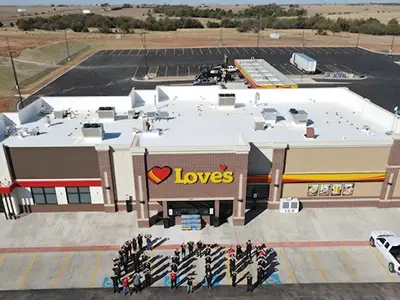 Love's Competitive Landscape in the Gas Station Sector
In the expansive realm of highway gas stations and convenience stores, Love's faces stiff competition from several renowned brands. Casey's, predominantly found in the Midwest, offers a unique blend of gas services and made-from-scratch pizzas that have garnered a loyal customer base. Racetrac, operational in the southern United States, boasts a broad variety of fuel options and an extensive convenience store lineup. Speedway, which recently became part of the 7-Eleven family, has a widespread presence and offers the Speedy Rewards loyalty program, making it a top contender. Wawa, with its cult-like following, combines fuel services with a fresh food market and is especially dominant in the Mid-Atlantic region. Beyond these, there are other significant players like Pilot Flying J and TA-Petro, which, much like Love's, specialize in serving the needs of long-haul truckers. As the industry continues to evolve, these brands are constantly innovating, with a focus on enhancing customer experience, broadening product offerings, and integrating technology to maintain a competitive edge.
Disclaimer:
CorporateOfficeHeadquarters.com is not associated with Love's Travel Stops & Country Stores. This Website is for informational and review purposes only.
Love's Corporate Headquarters Reviews and Feedback
Dive into the comment and review section below to share your experiences, provide feedback, or read about others' encounters with Love's customer service and corporate office.