Subway is a popular US sandwich chain. Subway HQ is located in Connecticut USA. More contact information is listed below.
How To Contact Subway Corporate Office Headquarters HQ
Doctor's Associates (Parent Company of Subway Sandwiches)
Subway Corporate Address:
Subway Main Office: 325 Bic Drive Milford, Connecticut 06461-3059 USA
Subway Home Office in CT New 2023: 1 Corporate Drive, Shelton, CT 06484 USA
Subway Headquarters in Florida New in 2023: 1000 Sub Way, Miami, FL 331126 USA
Subway HQ Phone Numbers and Websites
Subway Corporate Phone Number: 203-877-4281
Subway Corporate Headquarters Fax Number: n/a
Corporate Email: info@subway.com
Corporate Stock Symbol: Not Listed – Private Company
Subway Customer Service Number: 800-888-4848
Website: Subway Corporate
Subway Restaurants Company Bio
Subway is famous for its chain of restaurants that serve sub-sandwiches and salads. Subway offers a healthy choice of non-fried menu items. Subway is the premier sandwich restaurant chain in the US. Subway's Customer Support Phone Number is 1-800-888-4848. The company does encourage users to use their technical support system and help forums on their website.
Subway's Competition
Subway competes in the fast food sandwich industry. Their competition includes Pot Belly, Jersey Mike's, Blimpie, Firehouse Subs, Jimmy John's, Quizno's, Schlotzsky's, Which Wich, McAlister's Deli, Jason's Deli, Honey Baked Ham Restaurants and Panera Bread.
Subway Corporate Office Complaints
As a global leader in the fast-food industry, Subway inevitably encounters a range of feedback. Customers with concerns specific to their Subway experience have several avenues to voice their complaints. They can directly contact Subway's customer service, send a written complaint to their headquarters, or use various online platforms to express their concerns. Moreover, CorporateOfficeHeadquarters.com features a dedicated comment section where individuals can detail their Subway encounters. This transparent communication helps potential patrons make decisions based on shared experiences.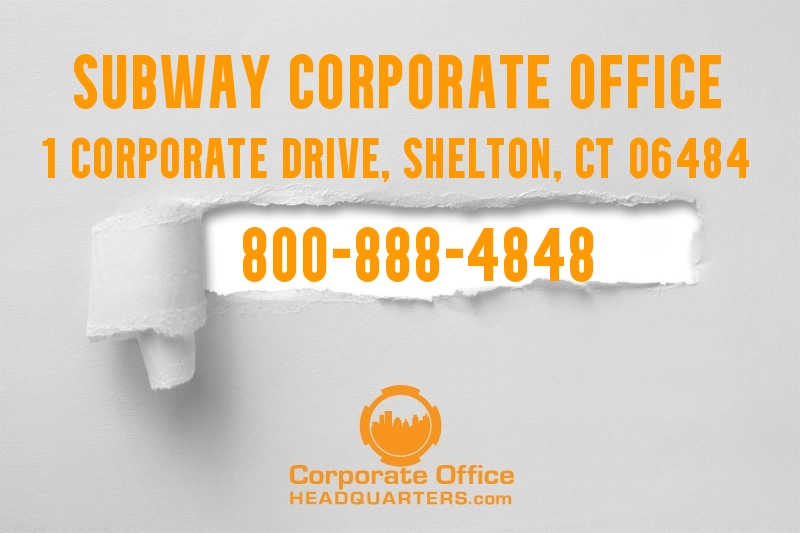 Why Trust CorporateOfficeHeadquarters.com?
"At CorporateOfficeHeadquarters.com, trust and accuracy go hand in hand. Our curated database offers vetted corporate details, from phone numbers to addresses. Users can confidently share reviews and file complaints, all within a community dedicated to corporate transparency and accountability."
Disclaimer
CorporateOfficeHeadquarters.com is not associated with Subway. This website is for information, reviews, feedback, ratings, and complaints purposes only. Information was verified by a live person. Please report any errors to the webmaster.