How to Contact Firehouse Subs Corporate Office Headquarters HQ
Firehouse Corporate Office Address:
12735 Gran Bay Parkway, Suite 150
Jacksonville, FL 32258 USA
Firehouse Corporate Contact Phone Numbers:
Firehouse Corporate Phone Number: 1-800-388-3473
Contact Number for Support and Help: 1-888-289-6185
Jobs: Online Job Listings
Online Help & Chat: Contact Page
Email: rewards@firehousesubs.com
Website: FireHouse Subs
Firehouse Subs has reached 1,200 locations. Their expansion is carefully calculated. RBI, the parent company of Firehouse Subs, is a global powerhouse and they are poised to grow like never before. Firehouse's commitment to excellence and customers will always be their top priority.
Growing up in a family that is both entrepreneurial and built on decades of fire & police service, Chris and Robin Sorensen were primed to be the founders of Firehouse Subs.
Firehouse Subs competes in the fast-food sandwich industry. Their competition includes Pot Belly, Jersey Mike's, Blimpie, Subway, Jimmy John's, Quizno's, Schlotzsky's, Which Wich, and Panera Bread.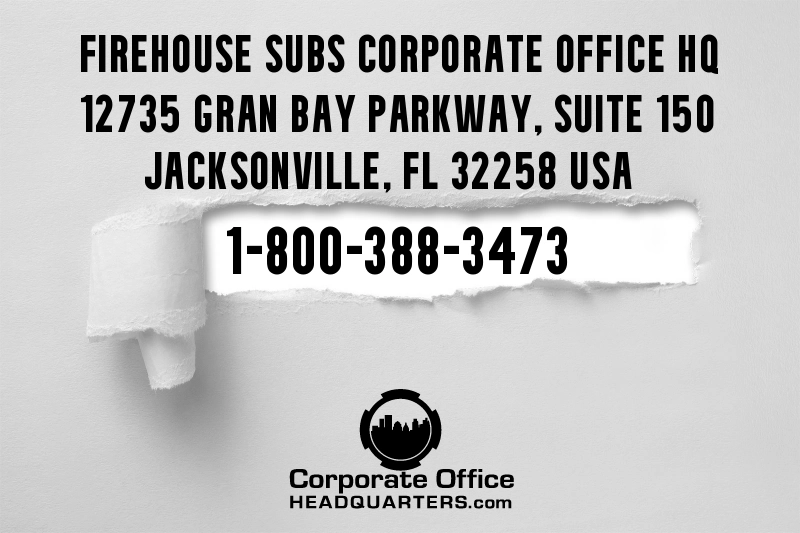 Corporate Office Headquarters is not associated with Firehouse Subs. This website is for information, reviews, feedback, ratings, and complaint purposes only. Information was verified by a live person on April 2023. Please report any errors to the webmaster.