Arby's, a well-known fast-food restaurant chain specializing in roast beef sandwiches, has its corporate office headquartered in Atlanta, Georgia. Below, you'll find comprehensive details about Arby's corporate office, including their address, contact numbers, and an overview of the company.
How To Contact Arby's Corporate Office Headquarters and Arbys HQ
Arbys Corporate Office: Overview
Arby's Headquarters Address: Arby's Restaurant Group, Inc., 3 Glenlake Pkwy NE, Sandy Springs, GA 30328
Arby Corporate Office Phone Number: 1-800-984-8289
Arby's Main Office & HR Phone Number: 1-800-599-2729
Arby's Customer Service Number: 1-800-599-2729
Arby's Home Office Website: arbys.com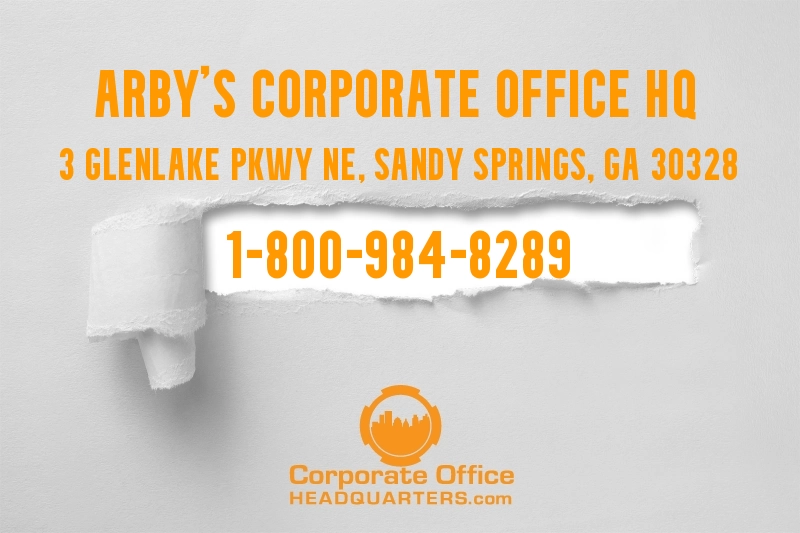 Maps and Directions to Arbys Corporate Office Location in Georgia
A Snapshot of Arby's History
Founded in 1964, Arby's has become a popular fast-food chain known for its roast beef sandwiches and a wide variety of menu offerings. Arby's has expanded its menu over the years to include a range of sandwiches, sides, and beverages.
The Fast-Food Industry & Arbys Competition
In the competitive fast-food industry, Arby's competes with other major fast-food chains, including:
Arby's Commitment to Customers
Arby's success is built on its commitment to providing customers with high-quality, freshly prepared food. They emphasize the use of real meats and offer a diverse menu to cater to various tastes and dietary preferences.
Arby's Parent Company – Inspire Brands
Arby's parent company is Inspire Brands, a leading multi-brand restaurant company headquartered in Atlanta, Georgia. Inspire Brands is one of the largest restaurant companies in the world, with a diverse portfolio of restaurant brands spanning various cuisines and dining experiences. In addition to Arby's, Inspire Brands owns and operates well-known restaurant chains such as Buffalo Wild Wings, Sonic Drive-In, and Jimmy John's. Under the umbrella of Inspire Brands, Arby's continues to thrive as a beloved fast-food chain known for its roast beef sandwiches and innovative menu offerings. Inspire Brands provides strategic support and resources to Arby's and its other brands, fostering growth and innovation in the ever-evolving restaurant industry.
Importance of Arby's in the Fast-Food Sector
Arby's plays a significant role in the fast-food sector by offering unique menu items, particularly its roast beef sandwiches, which set it apart from other fast-food chains. They continue to innovate and introduce new flavors to satisfy their customer base.
Why Trust CorporateOfficeHeadquarters.com?
At CorporateOfficeHeadquarters.com, we are dedicated to providing accurate and up-to-date information about various corporations, including popular fast-food chains like Arby's. We ensure that our readers can rely on the information we provide.
Disclaimer:
CorporateOfficeHeadquarters.com is not affiliated with Arby's Restaurant Group, Inc. This content serves informational purposes and is designed to offer a platform for reviews and user feedback.
Arby's Corporate Office Reviews and Feedback
We encourage you to share your dining experiences at Arby's. Your feedback in the comment section below can help others discover the delicious offerings and quality service that Arby's provides.