Xfinity, a brand of Comcast Corporation, has its corporate headquarters located in Philadelphia, Pennsylvania. Known as a major provider of cable television, internet, telephone, and wireless services, Xfinity is recognized for its wide range of digital communication and entertainment solutions. This post provides comprehensive details about Xfinity, highlighting their corporate address, contact information, and an overview of the company's services and market position.
How To Contact Xfinity Corporate Office Headquarters HQ
Xfinity Headquarters Address and Xfinity Mobile Corporate Office
Comcast Corporate Office – Xfinity's Parent Company
1701 John F Kennedy Blvd #300, Philadelphia, PA 19103 USA
Xfinity Main Office Phone Numbers and Websites
Corporate Phone Number: 1-215-665-1700
Corporate Fax Number: 1-215-981-7790
Xfinity Complaints and Customer Service: 1-800-266-2278
Website: Xfinity.com
Xfinity's main competitors are Spectrum, Verizon, Cox, Optimum, Wow, Mediacom, and Breezeline. Xfinity Mobile also completes with AT&T Wireless, Verizon Wireless, and T-Mobile.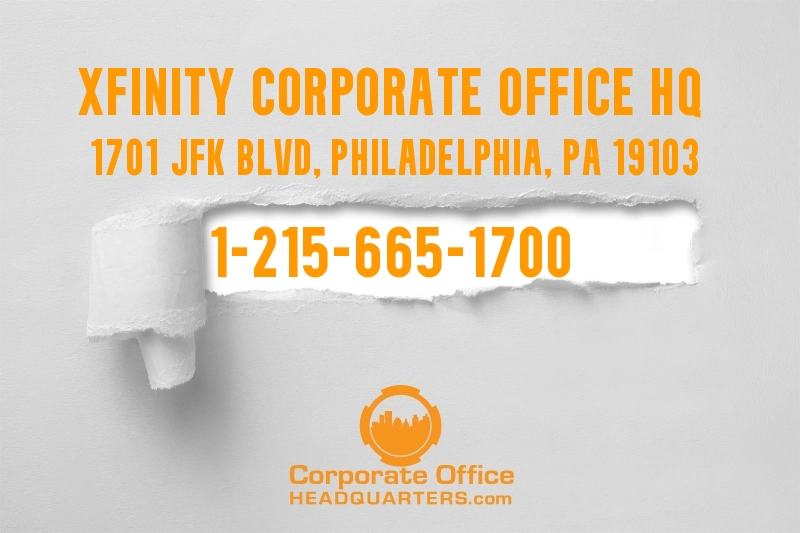 Map and Directions to Xfinity Home Office
CorporateOfficeHeadquarters.com is not associated with Xfinity or Comcast. This website is for complaints, information, reviews, ratings, and feedback purposes only. Information was verified by a live person . Please report any errors to the webmaster. For xfinity corporate office complaints please call customer service or leave your review below on our website for other readers.
How do i file a complaint with Xfinity?
The best way to file a complaint with Xfinity is to call customer service at 1-800-266-2278. If your problem is not resolved then you can ask to speak with a supervisor.
what is the address for xfinity headquarters?
Xfinity's headquarters and home office is located at: One Comcast Center
Philadelphia, PA 19103 USA