How to Contact Comcast Corporate Office Headquarters HQ
Comcast Corporate Address in Philadelphia:
Comcast Headquarters
One Comcast Center
Philadelphia, PA 19103-2838 USA
Corporate Phone Number: 1-215-665-1700
Comcast HQ Fax Number: 1-215-981-7790
Comcast Live Person: 8889346489
Corporate Email: info@comcast.com
Corporate Stock Symbol: CMCSA
Website: Comcast
Comcast is famous for communication services. Comcast's products include wireless voice and data, broadband internet, video, and data and phone service. Comcast is one of the premier cable tv and internet providers in the USA.
Comcast's competition includes Verizon, AT&T, Dish, Charter, T-Mobile, Centurylink, and Optimum.
Comcast's toll-free customer service number is 1-800-266-2278. The company does encourage users to use its technical support system and help forums on their website.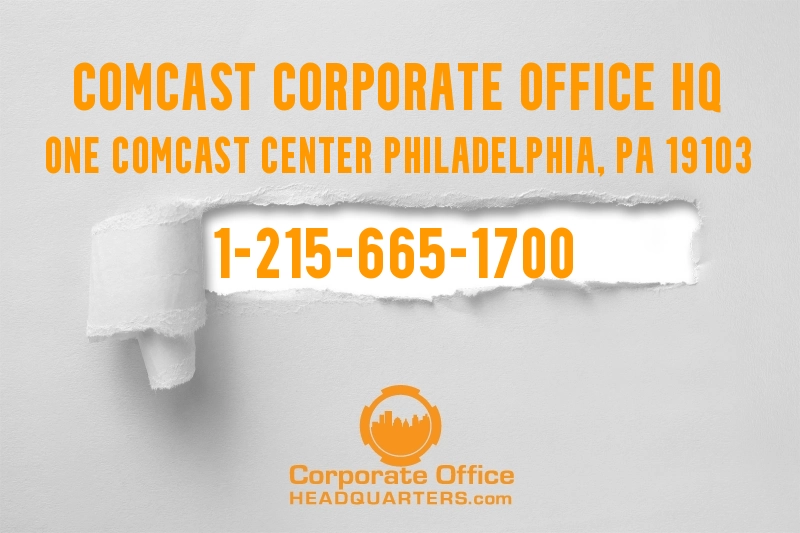 CorporateOfficeHeadquarters.com is not associated with Comcast. This website is for information, reviews, feedback, ratings, and complaints purposes only. Information was verified by a live person as of June 2023. Please report any errors to the webmaster.
how do i file a complaint with Comcast corporate?
You can call Comcast's corporate phone number at 1-215-665-1700 or you may write to them at One Comcast Center, Philadelphia, PA 19103-2838 USA. However, the best way to get your complaint resolved is to call customer service at 1-888-934-6489
who is the ceo of comcast xfinity
The CEO of Comcast and Xfinity is Mr. Brian L. Roberts.