T-Mobile Corporate Office is located in Washington, USA. More information to reach out to T-Mobile is listed below, including the T Mobile corporate office address, phone numbers, and websites. Also, customer reviews and T-Mobile complaints.
How to Contact T-Mobile Corporate Office Headquarters HQ
Address: 12920 SE 38th St. Bellevue, WA 98006 USA
T-Mobile Phone Numbers and Contact Information
T Mobile Headquarters Phone Number: 1-425-378-4000
Fax Number: 1-425-378-4040
TTY: 1-877-896-1018
Customer Service Number: 1-877-453-1304
Business Customer Service: 1-888-537-4242
Website: T-Mobile.com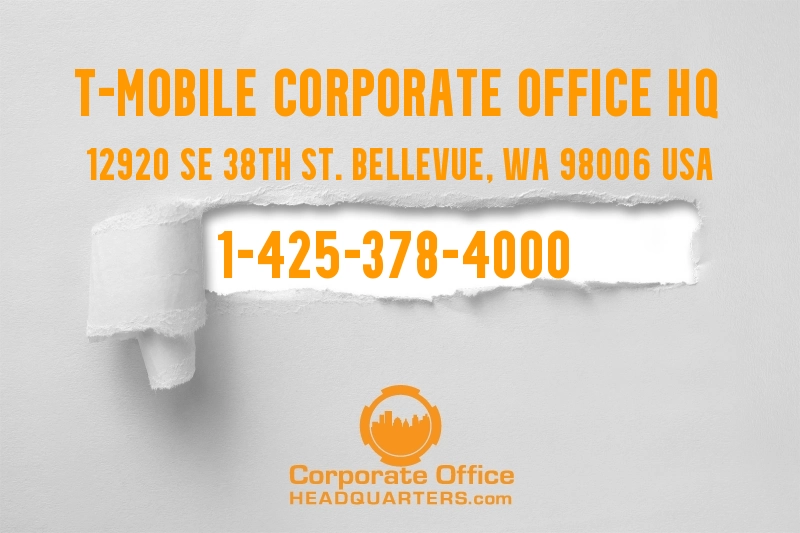 Maps and Directions To TMobile Corporate Office Location
A Glimpse into T-Mobile's History
Founded in 1994, T-Mobile US, Inc. has emerged as a key player in the American telecommunications industry. Known for its innovative approach to mobile communications, T-Mobile has been a pioneer in introducing new network technologies and customer-centric plans that have reshaped the mobile landscape.
The Telecommunications Industry Landscape
In the highly competitive telecom sector, T-Mobile faces off against major rivals like AT&T, Verizon, and Xfinity. Known for its 'Un-carrier' approach, T-Mobile has differentiated itself by challenging industry norms and placing a strong emphasis on customer service and transparent pricing. They also on Metro by T-Mobile. Other smaller competitors include Mint Mobile, Boost Mobile, US Cellular, Google.
T-Mobile's Innovations and Customer Focus
T-Mobile's commitment to innovation is evident in its rapid deployment of 5G technology and its focus on improving customer experiences. This forward-thinking approach has garnered a loyal customer base and positioned T-Mobile as a progressive force in the industry.
Why Trust CorporateOfficeHeadquarters.com?
CorporateOfficeHeadquarters.com is committed to providing accurate and current corporate information. We ensure our readers receive reliable details for their inquiries about companies like T-Mobile.
Disclaimer:
CorporateOfficeHeadquarters.com is not affiliated with T-Mobile. The content here is for informational purposes, offering a platform for reviews and user feedback.
T-Mobile Corporate Office Reviews and Feedback
Your experiences and insights about T-Mobile's corporate services are important. We invite you to share your feedback in the comment section below, helping others gain a comprehensive view of T-Mobile's corporate operations and customer service.