State Farm corporate office is located in Illinois. More information for State Farm Insurance is listed below including their address, phone number, customer reviews, and complaints.
How To Contact State Farm Corporate Office Headquarters HQ
State Farm Mutual Automobile Insurance Company
State Farm Corporate Address
1 State Farm Plaza Bloomington, IL 61710-0001 USA
State Farm Corporate Phone Numbers
State Farm Corporate Headquarters Phone Number: 1-309-766-2311
Fax Number: 1-309-766-3621
Customer Service Number: 800-440-0998
Claims: 1-800-782-8332
Payments: 1-800-440-0998
State Farm Bank: 1-877-734-2265
State Farm Credit Card: 1-877-734-8472
Mutual Funds: 1-800-447-4930
Tech Support: 1-888-559-1922
Website: State Farm Insurance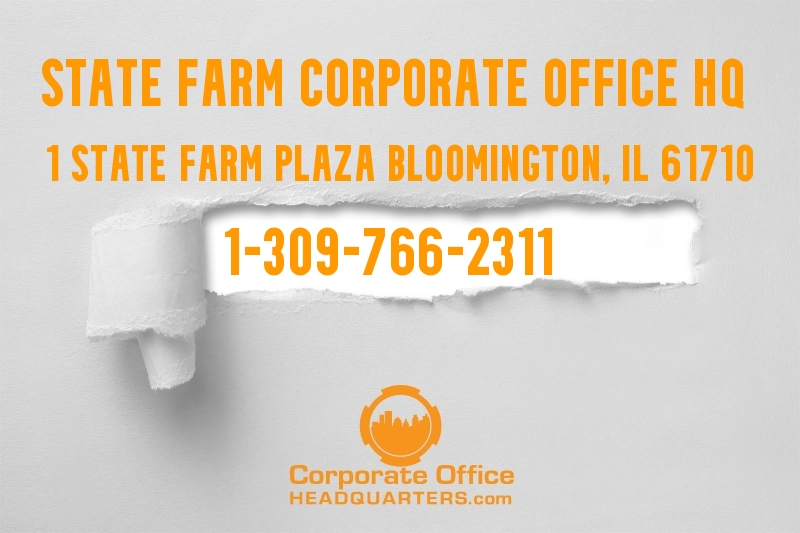 Maps and Directions To State Farm Headquarters Address in Illinois
A Snapshot of State Farm's History
Founded in 1922 by George J. Mecherle, State Farm has become one of the largest and most recognizable insurance providers in the world. Known for its extensive range of insurance products, State Farm operates as a mutual company, owned by its policyholders.
The Insurance Industry
In the highly competitive insurance industry, State Farm stands out by offering a wide array of insurance options, including auto, home, life, and more. They focus on personalized service and have a vast network of agents across the United States.
State Farm's Competition in the Insurance Industry
State Farm's main competitors are Allstate, Progressive, Geico, USAA, Liberty Mutual, Farmers Insurance, Travelers, American Family Insurance, Nationwide, Erie Insurance, Auto Club Exchange, Chubb, CSAA, Kemper, MetLife, Mercury, The Hartford, Auto Club, Amica, Country Financial, Shelter Insurance, and Brightway Insurance.
State Farm's Commitment to Customers
State Farm's success is built on its commitment to customer satisfaction. They provide policyholders with a sense of security and financial protection through their insurance offerings and exceptional customer service.
Why Trust CorporateOfficeHeadquarters.com?
At CorporateOfficeHeadquarters.com, we are dedicated to providing accurate and up-to-date information about various corporations. We ensure that our readers can rely on the information we provide about companies like State Farm.
Disclaimer:
CorporateOfficeHeadquarters.com is not affiliated with State Farm Insurance. This content serves informational purposes and is designed to offer a platform for reviews and user feedback.
State Farm Corporate Office Reviews and Feedback
We encourage you to share your experiences with State Farm's corporate services. Your feedback in the comment section below is valuable and can help others gain insights into State Farm's operations and customer service.