GEICO's (Government Employees Insurance Company) Corporate Office in the United States is headquartered in Chevy Chase, Maryland. Below are comprehensive details about GEICO's corporate office, including their address, contact numbers, and a brief overview of the company.
How To Contact GEICO Corporate Headquarters HQ
GEICO Corporate Office: Overview
Geico HQ Corporate Address: 5260 Western Avenue, Chevy Chase, MD 20815, USA
Geico Home Office Phone Number: 1-800-841-3000
Geico Customer Support Number: 1-800-841-3000
Website: geico.com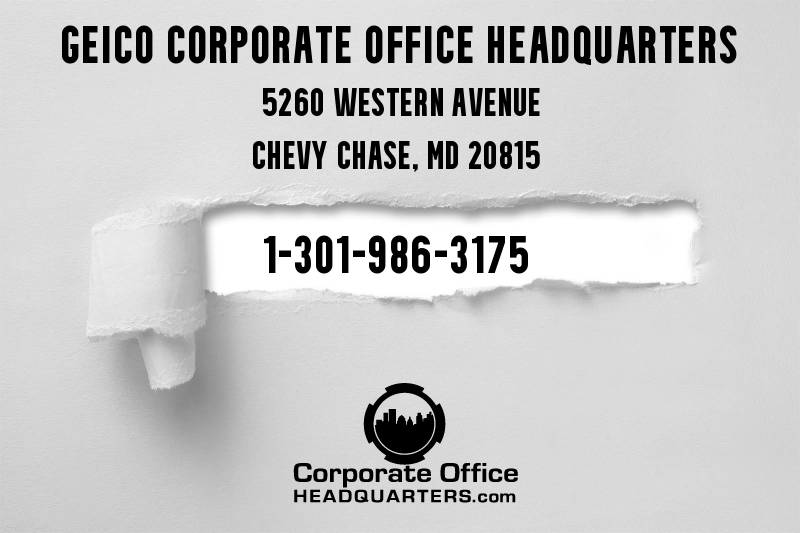 Map and Directions To Geico Headquarters in Chevy Chase, Maryland USA
A Snapshot of GEICO's History
Founded in 1936, GEICO is the second-largest auto insurer in the United States. Renowned for its direct-to-consumer sales model and advertising campaigns featuring the iconic GEICO Gecko, the company offers a wide range of insurance products, including auto, property, and business policies.
The Insurance Industry and GEICO's Position
In the highly competitive insurance market, GEICO competes with other major insurers like Amica, State Farm, Progressive, Brightway Insurance and Allstate. GEICO differentiates itself through its low-cost insurance options, extensive advertising, and strong focus on customer service and convenience, particularly through its online and mobile platforms.
GEICO's Customer-Centric Approach
GEICO's success is driven by its commitment to offering affordable insurance solutions and a convenient customer experience. The company's efficient claims handling and emphasis on technological innovation have helped it maintain a loyal customer base and a strong position in the insurance industry.
Why Trust CorporateOfficeHeadquarters.com?
At CorporateOfficeHeadquarters.com, we strive to deliver precise and up-to-date information on various corporations. Our commitment to accuracy ensures our readers can rely on the information we provide about companies like GEICO.
Disclaimer:
CorporateOfficeHeadquarters.com is not affiliated with GEICO. This content is for informational purposes and is designed to offer a platform for reviews and user feedback.
GEICO Corporate Office Reviews and Feedback
We encourage you to share your experiences with GEICO's corporate services. Your feedback in the comment section is invaluable, providing insights that help others understand GEICO's operations and customer service.