Jackson Hewitt Tax Service Inc.'s corporate headquarters is located in Jersey City, New Jersey. As a prominent tax-preparation service company, Jackson Hewitt specializes in offering professional, reliable tax services to individuals across the United States. This post provides comprehensive details about Jackson Hewitt, highlighting their corporate address, contact information, and an overview of the company's tax services and market presence.
Contacting Jackson Hewitt Corporate Office Headquarters HQ
Jackson Hewitt Headquarters: An Overview
Jackson Hewitt Corporate Address: 10 Exchange Place, 27th Floor, Jersey City, NJ 07302, USA
Jackson Hewitt HQ Phone Number: 1-800-234-1040
Jackson Hewitt Main Office: 1-800-234-1040
Jackson Hewitt Customer Care: Accessible via their website or customer service line
Website: jacksonhewitt.com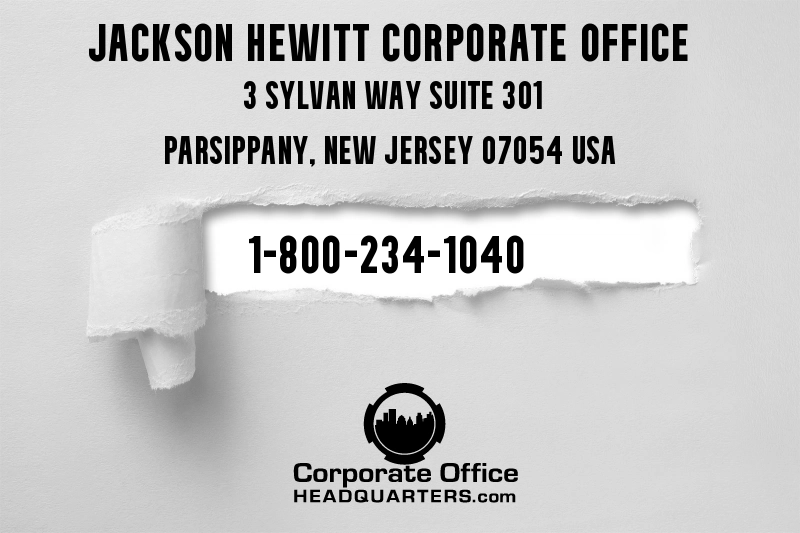 Maps and Directions To Jackson Hewitt Corporate Headquarters
Jackson Hewitt's Role in the Tax Preparation Industry
Jackson Hewitt is a well-known name in the tax preparation industry, offering a wide range of tax services including tax filing, tax planning, and refund options. The company is recognized for its convenient, accurate, and affordable tax solutions, catering to a diverse clientele with varying tax needs. Jackson Hewitt's extensive network of franchises and company-owned locations ensures accessibility and client convenience. Jackson Hewitt Tax Service claims they will find all the deductions and credits you deserve, no matter what your occupation or position. That means more money in your pocket.
The Competitive Landscape of Tax Services and Jackson Hewitt's Position
In the competitive field of tax services, Jackson Hewitt competes with other major tax preparation firms like H&R Block, Liberty Tax, Intuit, TaxAct, and TurboTax. Jackson Hewitt sets itself apart with its personalized customer service, extensive knowledge of tax laws, and a commitment to maximizing refunds and minimizing liabilities for its clients. The company's focus on client education and support, along with innovative tax technologies, positions it as a reliable choice for tax preparation services.
Jackson Hewitt's Dedication to Client Service and Tax Expertise
Jackson Hewitt is dedicated to providing exceptional client service and accurate tax advice. The company's tax professionals are well-trained and knowledgeable, offering expert guidance to navigate the complexities of tax filing. Jackson Hewitt's commitment to client satisfaction is evident in its guarantee of accuracy and maximum refund potential, making it a trusted partner during tax season. Jackson Hewitt is a private company and they operate over 6,000 franchised and company owned locations in the USA. Many locations are located in Walmart Stores.
Why Trust CorporateOfficeHeadquarters.com?
CorporateOfficeHeadquarters.com aims to provide accurate and current information on corporations like Jackson Hewitt Tax Service Inc. We ensure our readers can trust us for reliable and comprehensive corporate details.
Disclaimer
Please be aware that CorporateOfficeHeadquarters.com is not officially affiliated with Jackson Hewitt Tax Service Inc. The content provided is for informational purposes and serves as a platform for customer reviews and feedback.