Liberty Tax Service, headquartered in Virginia Beach, Virginia, is a well-known tax preparation company offering a wide range of tax services to individuals and businesses. Renowned for its customer-focused approach and professional tax assistance, Liberty Tax is a leading player in the tax preparation industry. This post provides comprehensive details about Liberty Tax Service, highlighting their corporate address, contact information, and an overview of the company's services and position in the market.
Contacting Liberty Tax Service Corporate Office Headquarters HQ
Liberty Tax Service Headquarters: An Overview
Liberty Tax Service Corporate Address: 1716 Corporate Landing Parkway, Virginia Beach, VA 23454, USA
Liberty Tax Service HQ Phone Number: 1-757-493-8855
Liberty Tax Service Main Office: 1-757-493-8855
Liberty Tax Service Customer Care: Accessible via their website or customer service line
Website: libertytax.com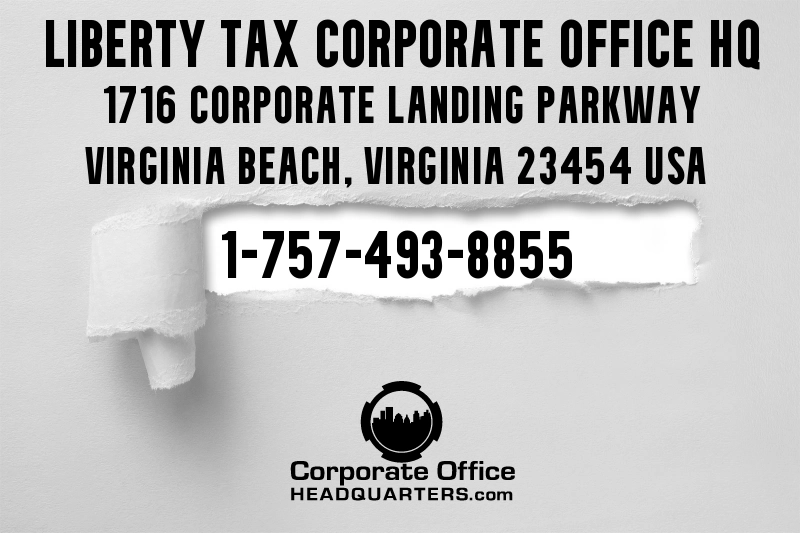 Maps and Directions To Corporate Headquarters
Liberty Tax Service's Role in the Tax Preparation Industry
Liberty Tax Service is a significant player in the tax preparation industry, offering a variety of services including tax filing, tax planning, and refund options. Known for its convenient locations, experienced tax professionals, and customer-centric services, Liberty Tax has established itself as a trusted resource for tax assistance.
The Competitive Landscape of Tax Preparation Services and Liberty Tax's Position
In the competitive tax preparation market, Liberty Tax Service faces challenges from both national chains and local tax firms. Nationally, it competes with major companies like H&R Block, Jackson Hewitt, and TurboTax. Regionally, Liberty Tax contends with smaller local tax preparation firms and independent accountants offering similar services. Despite this competition, Liberty Tax differentiates itself with its personalized service, accessible office locations, and a strong focus on customer education and support. Liberty Tax Service is one of the largest companies in the industry. Their competition includes TaxAct, Credit Karma, H&R Block, Intuit TurboTax, and Jackson Hewitt.
Liberty Tax Head Office Complaints, Reviews, and Feedback
We encourage you to share your experiences with Liberty Tax Service's tax preparation services, customer support, and overall satisfaction with their assistance. Your feedback in the comments section is invaluable, providing insights that help others understand Liberty Tax's operations and commitment to quality service in the tax preparation sector. Whether you have compliments, complaints, or suggestions, your perspectives are important in evaluating the company's performance and service quality.
Why Trust CorporateOfficeHeadquarters.com?
CorporateOfficeHeadquarters.com aims to provide accurate and current information on corporations like Liberty Tax Service. We ensure our readers can trust us for reliable and comprehensive corporate details.
Disclaimer
Please be aware that CorporateOfficeHeadquarters.com is not officially affiliated with Liberty Tax Service. The content provided is for informational purposes and serves as a platform for customer reviews, feedback, and corporate complaints.