CookOut corporate office is located in the Southeastern United States, in Thomasville, North Carolina. Cookout is a well-known fast-food restaurant chain primarily Below are comprehensive details about Cook Out's corporate office, including their address, contact numbers, and a brief overview of the company.
How To Contact Cook Out Corporate Office Headquarters HQ
Cook Out Headquarters: Overview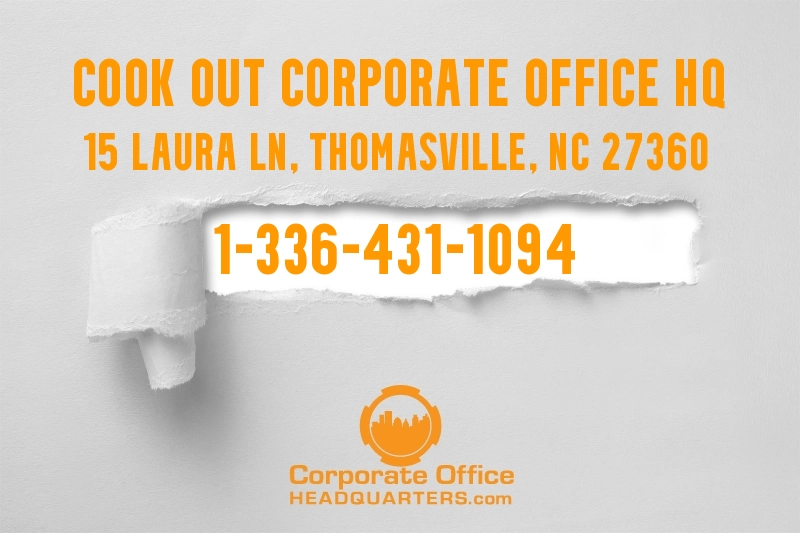 A Snapshot of Cook Out's History
Founded in 1989, Cook Out has grown from a single restaurant in Greensboro, North Carolina, to a beloved chain across the Southeastern U.S. Known for its fresh burgers, barbecue, hot dogs, and famous milkshakes, Cook Out prides itself on quality food at affordable prices, served in a casual, drive-thru setting.
Maps and Directions To Cookout Corporate Office
The Fast-Food Industry and Cook Out's Position
In the highly competitive fast-food market, Cook Out distinguishes itself with a focus on classic Southern-style fast food. Competing with chains like Burger King, Wendys, McDonalds, Sonic, Whataburger, and Five Guys, Cook Out is celebrated for its extensive menu, quick service, and commitment to maintaining a local, family-owned feel despite its growth.
Cook Out's Customer-Centric Approach
The cornerstone of Cook Out's success lies in its dedication to customer satisfaction, offering a wide selection of quality fast-food items at affordable prices. With an emphasis on speedy service and a welcoming atmosphere, Cook Out continues to be a popular choice for customers seeking a quick and delicious meal.
Why Trust CorporateOfficeHeadquarters.com?
At CorporateOfficeHeadquarters.com, we strive to deliver precise and up-to-date information on various corporations. Our commitment to accuracy ensures our readers can rely on the information we provide about companies like Cook Out.
Disclaimer:
CorporateOfficeHeadquarters.com is not affiliated with Cook Out. This content is for informational purposes and is designed to offer a platform for reviews and user feedback.
Cook Out Corporate Office Complaints, Reviews, and Feedback
We encourage you to share your experiences with CookOut corporate office and services. Your feedback in the comment section is invaluable, providing insights that help others understand Cook Out's operations and customer service.