Jared Corporate Office, a part of Signet Jewelers Limited, is headquartered in Akron, Ohio. Jared is a well-known jewelry store chain in the United States, renowned for its wide selection of jewelry, including diamonds, gemstones, watches, and more. Known for providing a unique shopping experience with a commitment to quality and customer service, Jared caters to customers seeking exquisite and high-quality jewelry. This post provides detailed information about Jared, including their corporate address, contact numbers, and an overview of the company's services and position in the jewelry retail industry.
Contacting Jared Corporate Office Headquarters HQ
Jared Headquarters: An Overview
Corporate Address: 375 Ghent Rd, Akron, OH 44333, USA
Signet Jewelers Ltd: Clarendon House 2 Church Street Hamilton, HM 11 Bermuda
Phone Number: 1-800-527-8229
Phone Number: 1-800-877-8169
Jared Customer Care: Accessible via their website or customer service line
Website: jared.com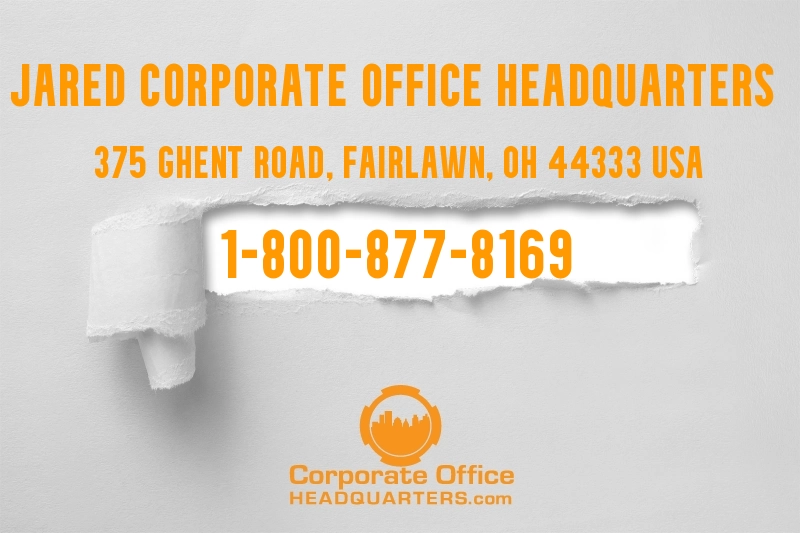 Maps and Directions To Jareds Corporate Headquarters
Jared's Role in the Jewelry Retail Industry
Jared, The Galleria of Jewelry, is a key player in the jewelry retail sector, offering a diverse range of high-quality jewelry and luxury goods. The brand is particularly known for its vast selection of engagement rings, wedding bands, and fine watches, along with a personalized shopping experience.
The Competitive Landscape of Jewelry Retail
In the competitive market of jewelry retail, Jared faces challenges from other prominent jewelry retailers such as Zales, Kay Jewelers, Tiffany & Co., and independent local jewelers. These competitors offer a range of jewelry products that cater to various customer preferences and price points. Jared differentiates itself with its exclusive collections, custom design services, and focus on providing an upscale, personalized shopping experience.
Jared Corporate Office Complaints, Reviews, and Feedback
We encourage you to share your experiences with Jared's product selection, store ambiance, customer service, and overall satisfaction with your purchases. Your feedback in the comments section is invaluable, providing insights that help others understand Jared's operations and commitment to customer satisfaction in the jewelry retail sector. Whether you have compliments, complaints, or suggestions, your perspectives are important in evaluating the company's performance and service quality.
Why Trust CorporateOfficeHeadquarters.com?
CorporateOfficeHeadquarters.com aims to provide accurate and current information on corporations like Jared. We ensure our readers can trust us for reliable and comprehensive corporate details.
Disclaimer
Please be aware that CorporateOfficeHeadquarters.com is not officially affiliated with Jared. The content provided is for informational purposes and serves as a platform for customer reviews, feedback, and corporate complaints.