Old Navy Corporate Office is located in San Francisco, California, USA. As a popular clothing and accessories retailer, Old Navy is part of the Gap Inc. family and is known for offering a wide range of affordable and stylish apparel for men, women, and children. Below are comprehensive details about Old Navy's corporate office, including their address, contact numbers, and a brief overview of the company.
How To Contact Old Navy Corporate Office Headquarters HQ
Old Navy Headquarters: Overview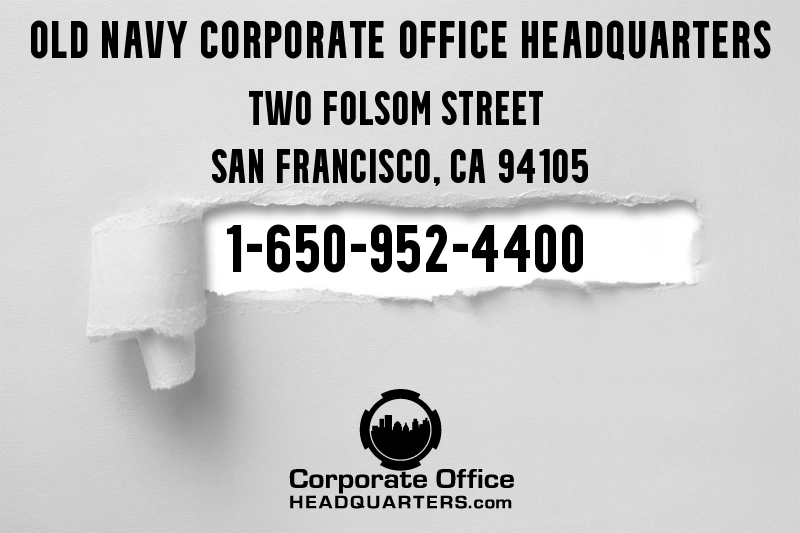 Maps and Directions To Old Navy Corporate Headquarters
A Snapshot of Old Navy's History
Old Navy was established in 1994 as a more affordable extension of Gap Inc. It quickly became a success with its fun, fashion-forward, and family-friendly approach. Today, Old Navy is a global brand, offering a diverse range of clothing and accessories that combine style with value.
The Retail Clothing Industry and Old Navy's Position
In the competitive retail clothing market, Old Navy competes with other apparel stores like H&M, Zara, and Uniqlo. Old Navy is recognized for its casual wear, trendy styles, and inclusive sizing, catering to a broad customer base looking for affordable yet fashionable clothing options.
Old Navy's Customer-Centric Approach
Old Navy is committed to providing an enjoyable shopping experience, both in-store and online. The brand focuses on offering trendy, high-quality products at great prices, with a commitment to sustainability and inclusive sizing for all customers.
Why Trust CorporateOfficeHeadquarters.com?
At CorporateOfficeHeadquarters.com, we strive to deliver precise and up-to-date information on various corporations. Our commitment to accuracy ensures our readers can rely on the information we provide about companies like Old Navy.
Disclaimer:
CorporateOfficeHeadquarters.com is not affiliated with Old Navy or Gap Inc. This content is for informational purposes and is designed to offer a platform for reviews and user feedback.
Old Navy Corporate Office Complaints, Reviews, and Feedback
We encourage you to share your experiences with Old Navy's clothing quality, shopping experience, and customer service. Your feedback in the comment section is invaluable, providing insights that help others understand Old Navy's operations and commitment to affordable fashion and customer satisfaction.