American Airlines corporate office headquarters is located in Fort Worth, Texas. As one of the largest airlines in the world, American Airlines offers a wide range of domestic and international flights, providing passengers with numerous travel options. This post provides comprehensive details about American Airlines, highlighting their corporate address, contact information, and an overview of the company's services and position in the airline industry.
Contacting American Airlines Corporate Headquarters HQ
American Airlines Headquarters: An Overview
American Airlines Headquarters Address: 1 Skyview Drive, Fort Worth, TX 76155, USA
American Airlines HQ Phone Number: 1-817-963-1234
American Airlines Main Office: 1-817-963-1234
American Airlines Customer Care: 1-800-433-7300
Website: aa.com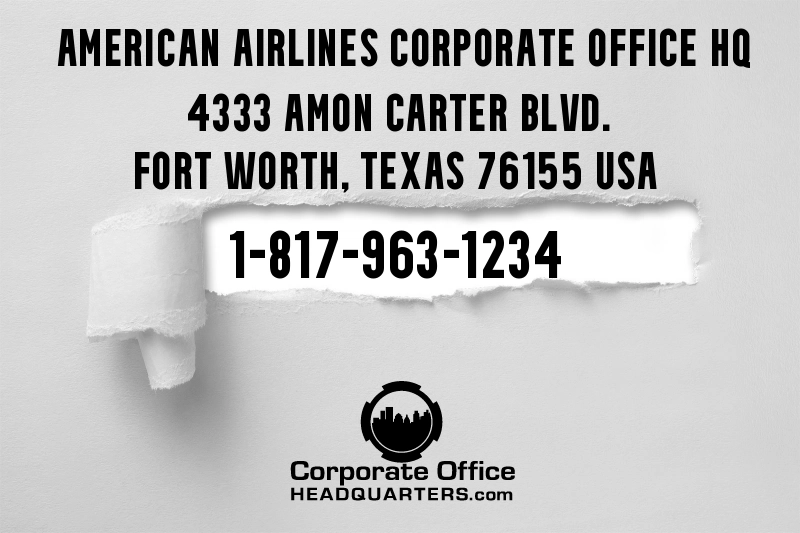 Maps and Directions To American Airlines HQ Address
American Airlines' Role in the Airline Industry
American Airlines plays a crucial role in the airline industry, offering extensive flight options across a global network. Known for its significant fleet size and wide range of destinations, the airline caters to both business and leisure travelers. American Airlines is committed to providing a comfortable and efficient travel experience, with services that include various cabin classes, in-flight entertainment, and loyalty programs.
The Competitive Landscape of the Airline Industry and American Airlines' Position
In the competitive airline market, American Airlines faces challenges from other major carriers like Delta Air Lines, United Airlines, and Southwest Airlines. The airline distinguishes itself through its extensive route network, modern fleet, and membership in the Oneworld airline alliance. Its focus on customer service, operational efficiency, and innovation helps maintain its status as a leading airline.
American Airlines Corporate Office Complaints, Reviews, and Feedback
We encourage you to share your experiences with American Airlines' flight services, customer support, and overall travel experience. Your feedback in the comments section is invaluable, providing insights that help others understand American Airlines' operations and commitment to passenger satisfaction. Whether you have a compliment, complaint, or suggestion, your perspectives contribute to a broader understanding of the company's performance in the airline industry.
Why Trust CorporateOfficeHeadquarters.com?
CorporateOfficeHeadquarters.com aims to provide accurate and current information on corporations like American Airlines. We ensure our readers can trust us for reliable and comprehensive corporate details.
Disclaimer
Please be aware that CorporateOfficeHeadquarters.com is not officially affiliated with American Airlines, Inc. The content provided is for informational purposes and serves as a platform for customer reviews, feedback, and corporate complaints.