American Express corporate office is located in New York City, New York. Below are comprehensive details about American Express's corporate headquarters, including their address, contact numbers, and a brief overview of the company.
How To Contact American Express Corporate Office Headquarters
American Express Corporate Office: Overview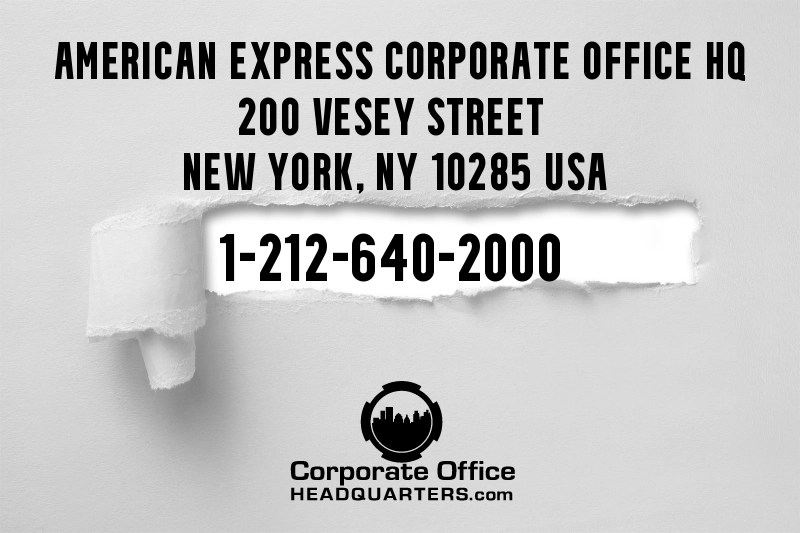 Map and Directions To American Express Headquarters Address
A Snapshot of American Express's History
Founded in 1850, American Express has become a cornerstone of the financial services industry. Originally established as an express mail business in Buffalo, New York, it has evolved into a multinational corporation known for its credit card, charge card, and traveler's cheque businesses. American Express has played a pivotal role in shaping financial services, constantly innovating and leading in customer service and financial products.
The Financial Services Industry and American Express's Position
In the dynamic financial services industry, American Express stands as a leader, particularly in the credit card sector. It competes with major players like Visa, MasterCard, Paypal, and Discover. Known for its premium service offerings and a focus on high-spending customers, American Express has established itself as a brand synonymous with excellence and customer loyalty, consistently setting itself apart in a competitive market.
American Express's Customer-Centric Approach
American Express's success can be attributed to its strong focus on customer service and innovation. The company prides itself on offering superior customer experiences, personalized services, and a range of products tailored to meet the diverse needs of its clientele. Its commitment to customer satisfaction and loyalty programs has been central to its strategy, making it a preferred choice for many consumers and businesses.
Why Trust CorporateOfficeHeadquarters.com?
At CorporateOfficeHeadquarters.com, we are committed to providing accurate and up-to-date information about leading corporations like American Express. Our readers can rely on us for comprehensive and relevant content about corporate headquarters and industry insights.
Disclaimer:
CorporateOfficeHeadquarters.com is not affiliated with American Express Company. This content is for informational purposes only and is intended as a platform for user reviews and feedback.
American Express Corporate Office Complaints, Reviews, and Feedback
We encourage you to share your experiences with American Express's corporate services. Your comments and feedback are invaluable, providing insights that help others understand American Express's operations and customer service ethos.