InTown Suites Corporate Office, a popular extended stay hotel chain, is headquartered in Atlanta, Georgia. Known for offering affordable and comfortable accommodations for longer stays, InTown Suites caters to travelers and temporary residents seeking the conveniences of home. With locations across the United States, InTown Suites provides fully furnished suites equipped with kitchenettes, making it an ideal choice for business travelers, students, and those relocating. This post provides detailed information about InTown Suites, including their corporate address, contact numbers, and an overview of the company's services and position in the hospitality industry.
Contacting InTown Suites Corporate Office Headquarters HQ
InTown Suites Headquarters: An Overview
Corporate Address: 2727 Paces Ferry Rd SE, Suite 2-1200, Atlanta, GA 30339, USA
Phone Number: 1-800-553-9338
Corporate Phone Number: 1-770-799-5000
Customer Service Number: 1-800-769-1670
InTown Suites Customer Care: Accessible via their website or customer service line
Website: intownsuites.com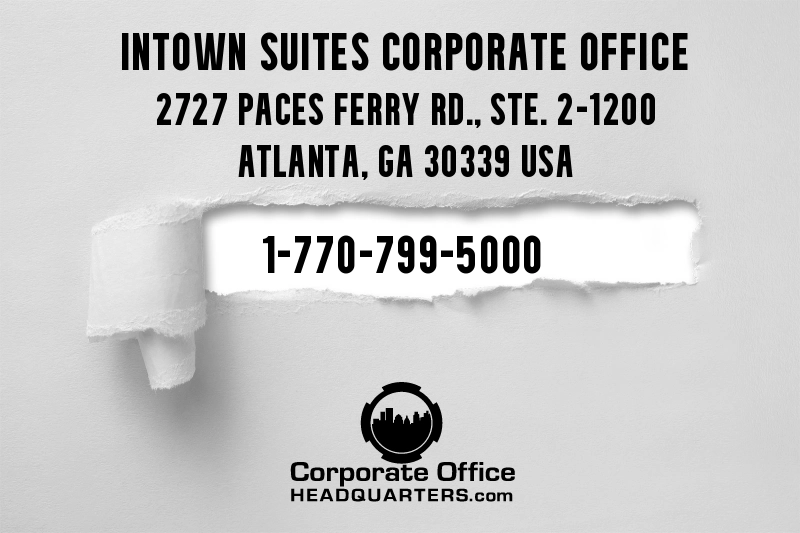 Maps and Directions To Intown Corporate Headquarters
InTown Suites' Role in the Extended Stay Hospitality Market
InTown Suites plays an essential role in the extended stay hospitality market, offering a budget-friendly alternative to traditional hotels and short-term rentals. Their suites are designed to provide guests with a comfortable and convenient living space for extended periods, which is particularly appealing to those on long business trips, in the midst of moving, or in need of temporary accommodation.
The Competitive Landscape of Extended Stay Hotels
In the competitive extended stay hotel market, InTown Suites faces challenges from other chains such as Extended Stay America, Residence Inn by Marriott, and Candlewood Suites. These brands offer similar long-term accommodation options geared toward travelers needing more than just a few nights' stay. InTown Suites distinguishes itself with its focus on affordability, simplicity, and convenient locations.
InTown Suites Corporate Office Complaints, Reviews, and Feedback
We encourage you to share your experiences with InTown Suites' accommodations, amenities, customer service, and overall satisfaction with your stay. Your feedback in the comments section is invaluable, providing insights that help others understand InTown Suites' operations and commitment to customer service in the extended stay hospitality sector. Whether you have compliments, complaints, or suggestions, your perspectives are important in evaluating the company's performance and service standards.
Why Trust CorporateOfficeHeadquarters.com?
CorporateOfficeHeadquarters.com aims to provide accurate and current information on corporations like InTown Suites. We ensure our readers can trust us for reliable and comprehensive corporate details.
Disclaimer
Please be aware that CorporateOfficeHeadquarters.com is not officially affiliated with InTown Suites. The content provided is for informational purposes and serves as a platform for customer reviews, feedback, and corporate complaints.