The Residence Inn Corporate Office is located in Maryland, USA. Below you'll find further details to contact Residence Inn, including their corporate office address, phone numbers, and websites. Additionally, there are customer reviews and Residence Inn complaints.
How To Contact Residence Inn Corporate Office Headquarters HQ
Marriott International, Inc. (Residence Inn by Marriott)
7750 Wisconsin Avenue
Bethesda, MD 20814 USA
Residence Inn Corporate Number – 1-301-380-3000
Hotel Reservations: 1-888-236-2427
Customer Service Number: 1-800-721-7033
Website: ResidenceInn.com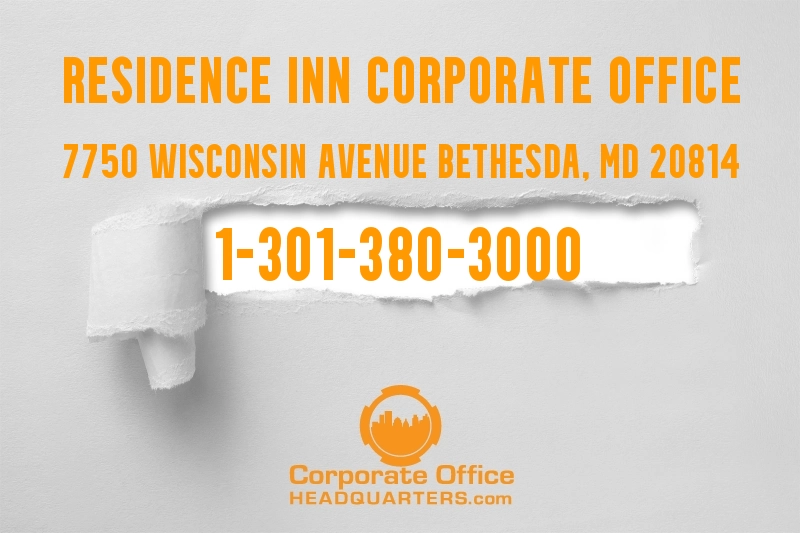 Residence Inn: Delving Into Its Origins
Established in 1975, Residence Inn was created as Marriott International's foray into the extended-stay hotel market. Its founder, Jack DeBoer, recognized an untapped need for accommodations that felt more like home for travelers requiring longer stays. From the outset, Residence Inn was designed with spacious suites, fully equipped kitchens, and living areas that provide the comfort and convenience of a home away from home. Over the years, the brand's approach to offering warm, inviting, and functional spaces has resonated with many, leading to its substantial growth. Today, Residence Inn stands as one of Marriott's renowned brands, boasting hundreds of locations across the globe and maintaining a steadfast commitment to serving its guests with top-tier extended stay experiences.
Navigating Residence Inn's Competitive Landscape
In the extended-stay segment of the hotel industry, Residence Inn faces competition from several established brands. Extended Stay America, Homewood Suites by Hilton, and Staybridge Suites by IHG are among its primary competitors, each offering their take on extended stay accommodations. Additionally, brands like Candlewood Suites (also from IHG) and Hyatt House have been steadily growing their footprint in this niche. The demand for home-like amenities, combined with the services of a hotel, ensures that this market segment remains competitive. As the dynamics of travel continue to shift, especially with the rise of remote work and longer-duration stays, Residence Inn, along with its competitors, constantly innovates to meet the evolving needs of modern travelers.
Why Trust CorporateOfficeHeadquarters.com?
"At CorporateOfficeHeadquarters.com, trust and accuracy go hand in hand. Our curated database offers vetted corporate details, from phone numbers to addresses. Users can confidently share reviews and file complaints, all within a community dedicated to corporate transparency and accountability."
Disclaimer
CorporateOfficeHeadquarters.com is not associated with Residence Inn by Marriott. This Website is for informational, review, and complaint purposes only.
Residence Inn Corporate Headquarters Reviews and Residence Inn Complaints and Praise
Scroll down to the comment and review section to read or write corporate office complaints, reviews, or to share your experiences regarding Residence Inn's customer service and corporate office.