ihg hotels corporate office phone numbers and websites – InterContinental Hotels Group
Corporate Phone Number: 770-604-2000
Fax Number: 801-975-1846
ihg us headquarters Customer Service: 800-621-0555
IHG Corporate Office Phone Number: 770-604-2000
UK Head Office Phon Number: 44 1753 972 000
IHG Customer Service: 800-621-0555
IHG Hotel Reservations: 888-653-4858
International Callers: 800-496-7621
Website: www.IHG.com
Corporate Website: IHG Corporate
How To Contact InterContinental Hotels Group IHG Corporate Headquarters HQ
InterContinental Hotels Group, known widely as IHG, is a multinational hotel company with its corporate office rooted in Denham, Buckinghamshire, UK. Below you'll find comprehensive information to contact IHG, including their address, phone numbers, and websites. Additionally, you can explore customer reviews and complaints. ihg corporate office atlanta is listed along with their head office in the UK.
IHG headquarters Address and Contact Information:
IHG Head Office:
Windsor Dials 1 Arthur Road Windsor SL4 1RS United Kingdom – UK
ihg us hq Atlanta, Georgia USA:
IHG Atlanta Office – 3 Ravinia Drive Suite 100 Atlanta, GA 30346-2149 USA
IHG Customer Service Address:
PO Box 30321 Salt Lake City, Utah 84130-0321 USA
IHG Singapore office:
230 Victoria Street #13-00 Bugis Junction Towers Singapore 188024
IHG China:
22nd Floor, Citigroup Tower No. 33, Huayuanshiqiao Road Pudong New Area 200120 Shanghai, PR China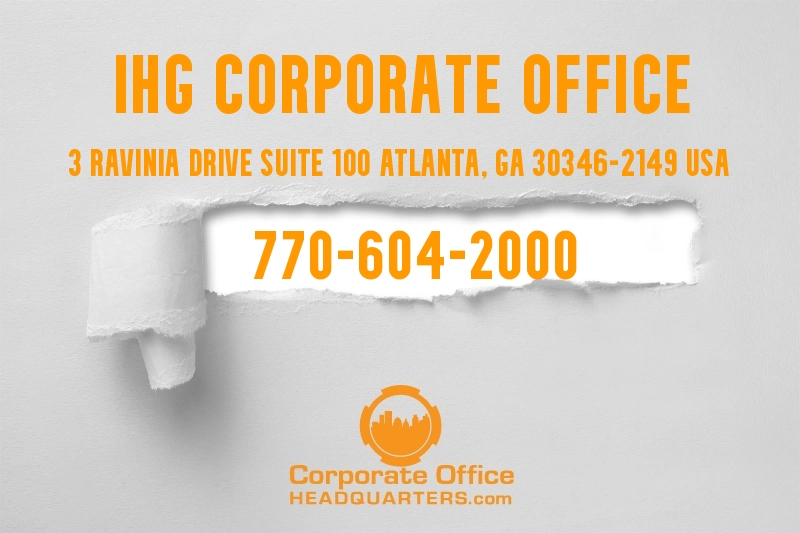 Overview of IHG Hotel Brands
IHG, a cornerstone in the global hospitality industry, oversees a variety of hotel brands designed to cater to a diverse clientele. Brands such as Holiday Inn and Holiday Inn Express are household names known for comfort and reliability. Crowne Plaza serves the business traveler, while the InterContinental brand offers luxury accommodations. Hotel Indigo brings boutique flair, and Staybridge Suites provides extended stay options. Together, these brands, among others in the IHG portfolio, showcase the company's commitment to offering a range of accommodations and experiences.
IHG's Competitors and Their Notable Brands
IHG, in its quest to deliver unmatched hospitality, faces challenges from global hotel powerhouses. Marriott International counters with brands like Ritz-Carlton and Sheraton. Hilton Worldwide boasts of names such as Hilton Garden Inn and Conrad. Accor offers everything from the luxurious Sofitel to ibis, while Wyndham Hotel Group's vast reach includes Ramada and Days Inn. Each competitor, with their diverse offerings, provides robust competition in the market, emphasizing the ever-evolving nature of the hospitality industry.
Addressing IHG Complaints
Like any major hotel conglomerate, IHG receives a spectrum of feedback. Those with IHG-specific concerns have multiple channels to communicate their complaints. Directly calling IHG's customer service, penning a letter to their main office, or leveraging online platforms are all viable options. For a wider reach, the CorporateOfficeHeadquarters.com platform provides a comment section for users to share their IHG experiences, fostering open communication and aiding prospective guests in making informed choices.
Why Trust CorporateOfficeHeadquarters.com?
"CorporateOfficeHeadquarters.com is your trusted source for detailed corporate information. With a commitment to accuracy, our database provides verified details ranging from phone numbers to office addresses. Share reviews, provide feedback, or voice complaints, all within a space dedicated to corporate transparency and user trust."
Disclaimer
CorporateOfficeHeadquarters.com is not affiliated with IHG. This site aims to provide information, reviews, feedback, ratings, and complaints. All data has been checked by a live individual. Kindly report inaccuracies to our webmaster.