LA Fitness Corporate Office is located in California. The details below offer a closer look at the corporate office for LA Fitness, encompassing their address, phone number, customer reviews, and more.
Ways to Communicate with LA Fitness Corporate Office Headquarters
LA Fitness, a renowned chain of gyms and fitness centers, is headquartered in California.
Corporate Office Location:
3021 Michelson Dr, Irvine, CA 92612
Contact LA Fitness:
LA Fitness Corporate Phone Numbers: Dial 1-909-392-1063 or 1-949-255-7200 and press #5.
Corporate Number 2023: 1-949-255-7200
Fax Number: Currently not available.
Email for inquiries: info@lafitness.com
Stock Symbol: LA Fitness is a privately held company.
Official Website: LAFitness.com
LA Fitness, which was founded in California, operates gym and fitness centers throughout a majority of US states. The company has expanded over time, including the acquisition of its former competitor, Ballys Fitness.
LA Fitness provides toll-free customer support at the phone number 1-800-600-2540. Moreover, the company encourages its members to use its technical support system and participate in help forums available on its official website.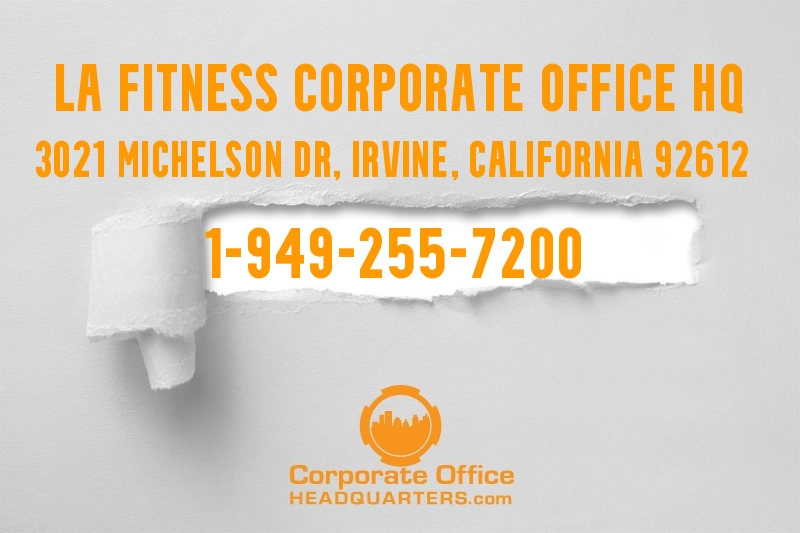 Maps and Directions to LA Fitness Headquarters
Competitors:
The fitness market in which LA Fitness operates is highly competitive, with rivals including Lifetime Fitness, Planet Fitness, Gold's Gym, In-Shape Fitness, Anytime Fitness, 24-Hour Fitness, Crunch Fitness, and Orange Theory.
Disclaimer:
CorporateOfficeHeadquarters.com does not maintain any association with LA Fitness. The website serves purely for informational purposes and as a platform for customers to leave reviews.
California: A Hub of Corporate Offices:
In addition to LA Fitness, California is home to many other prominent corporate offices. These include tech giants such as Apple, Google, and Facebook, entertainment companies like Disney and Netflix, as well as a variety of other industries, each contributing to the diverse and robust economy of the state. This concentration of corporate offices makes California a critical hub for business and innovation in the United States.
Why Trust CorporateOfficeHeadquarters.com?
Our goal at CorporateOfficeHeadquarters.com is to offer accurate, comprehensive information about various corporations. Our dedication to transparency ensures readers receive trusted, up-to-date details about brands and their corporate structures.
Disclaimer:
CorporateOfficeHeadquarters.com is not officially associated with LA Fitness. The information provided is for general knowledge, feedback, and review purposes.
Feedback and Reviews:
We encourage readers to dive into the comments below. If you have complaints or commendations regarding LA Fitness, your feedback is invaluable. By sharing your experiences or reading the reviews of others, you contribute to a more well-rounded understanding of the brand.