Staybridge Suites corporate office is located in Atlanta, Georgia. Staybridge is part of the InterContinental Hotels Group (IHG), is a hotel chain known for its extended-stay lodging options with a presence in various locations across the United States, Staybridge Suites caters to both business and leisure travelers seeking comfortable and homelike accommodations. This post provides comprehensive details about Staybridge Suites, highlighting their corporate address, contact information, and an overview of the company's services and position in the hospitality industry.
Contacting Staybridge Suites Corporate Office Headquarters HQ
Staybridge Suites Headquarters: An Overview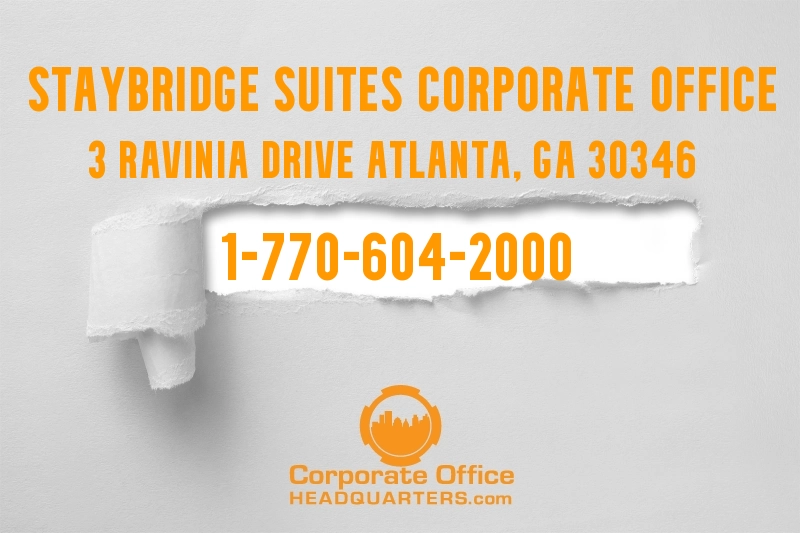 Maps and Directions To Staybridge Corporate Office Headquarters
Staybridge Suites' Role in the Hospitality Industry
Staybridge Suites is renowned for offering spacious and comfortable suites that provide guests with a home-like environment. With amenities like fully equipped kitchens, complimentary breakfasts, and evening socials, the brand is a preferred choice for guests requiring extended stays for business trips or family vacations.
The Competitive Landscape of Extended-Stay Hotels and Staybridge Suites' Position
In the competitive extended-stay hotel market, Staybridge Suites faces challenges from both national and regional hotel chains. Nationally, it competes with brands like Residence Inn by Marriott, Homewood Suites by Hilton, and Extended Stay America. Regionally, Staybridge Suites contends with local extended-stay hotels and boutique lodging options that offer similar amenities. Despite this competition, Staybridge Suites maintains its market presence through its commitment to guest comfort, quality service, and the backing of the IHG brand.
Staybridge Suites Corporate Office Complaints, Reviews, and Feedback
We encourage you to share your experiences with Staybridge Suites' accommodations, amenities, customer service, and overall satisfaction with their lodging offerings. Your feedback in the comments section is invaluable, providing insights that help others understand Staybridge Suites' operations and commitment to customer service in the extended-stay hotel sector. Whether you have compliments, complaints, or suggestions, your perspectives are important in evaluating the company's performance and service quality.
Why Trust CorporateOfficeHeadquarters.com?
CorporateOfficeHeadquarters.com aims to provide accurate and current information on corporations like Staybridge Suites. We ensure our readers can trust us for reliable and comprehensive corporate details.
Disclaimer
Please be aware that CorporateOfficeHeadquarters.com is not officially affiliated with Staybridge Suites corporate office or IHG. The content provided is for informational purposes and serves as a platform for customer reviews, feedback, and corporate complaints.