Samsung Corporate Office in the United States is headquartered in Ridgefield Park, New Jersey. Below are comprehensive details about Samsung USA, including their address, contact numbers, and a brief overview of the company.
How To Contact Samsung USA Corporate Office Headquarters
Samsung USA Heaquarters: Overview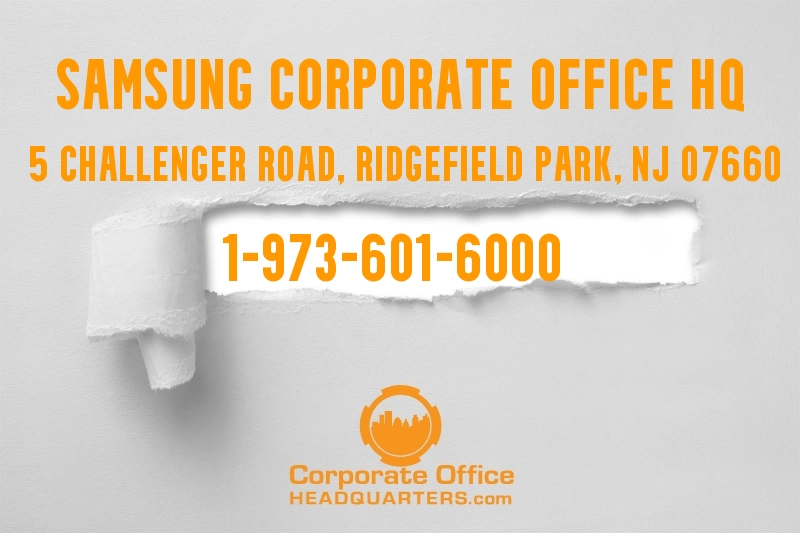 Maps and Directions To Samsung Corporate Headquarters
A Snapshot of Samsung USA's History
Samsung, a leading global technology company, has established a strong presence in the United States through Samsung USA. The company is known for its wide range of consumer electronics and home appliances, including smartphones, tablets, TVs, and home appliances.
The Technology Industry and Samsung USA's Position
In the competitive technology market, Samsung USA competes with major tech companies like Apple, LG, Dell, and Sony. Samsung is renowned for its innovation in electronics, particularly in the smartphone and television segments, and its commitment to providing high-quality, cutting-edge products.
Samsung USA's Commitment to Innovation and Quality
Samsung USA is dedicated to driving innovation and delivering top-tier quality in its products. The brand focuses on advancing technology, enhancing user experiences, and leading in areas such as mobile communications, digital appliances, and semiconductor solutions.
Why Trust CorporateOfficeHeadquarters.com?
At CorporateOfficeHeadquarters.com, we strive to deliver precise and up-to-date information on various corporations. Our readers can rely on the information we provide about companies like Samsung USA.
Disclaimer:
CorporateOfficeHeadquarters.com is not affiliated with Samsung Electronics America, Inc. This content is for informational purposes and is designed to offer a platform for reviews and user feedback.
Samsung USA Corporate Office Complaints, Reviews, and Feedback
We encourage you to share your experiences with Samsung USA's products, technological advancements, and customer service. Your feedback helps others understand the company's operations and commitment to innovation and quality in the technology sector.