LG Electronics Inc., a global leader hailing from South Korea, specializes in a vast range of products—from cutting-edge electronics like smartphones and TVs to innovative home appliances. With a rich history of pioneering technology that enhances daily life, LG is dedicated to creating products that deliver a better life to its consumers around the world. The LG Home Office for the USA is strategically located in New Jersey. For those wishing to reach out to the company, the contact information is provided below:
How To Contact LG Headquarters USA – North America
LG Corporate Office USA – 1000 Sylvan Avenue Englewood Cliffs, New Jersey 07632 USA
Corporate Phone Number: 1-201-816-2000
Website: www.lg.com
LG Home Office in South Korea
LG Twin Tower 128
Yeoui-daero Yeongdeungpo-gu
Seoul 07336 South Korea
LG Korea Phone Number: 82 2 3777 1114
Lg Electronics Headquarters Canada
20 Norelco Drive, North York, ON, Canada, M9L 2X6
LG Canada Phone Number: 647 253 6300
LG Headquarters North America Contact Phone Numbers
LG Customer Service Phone Number: 800-243-0000
LG Main Office Tech Support: 850-999-4934
LG Premium Care (for product services and warranty): 855-549-0540
LG Main Office: 201-816-2000
To leave or read reviews or to write complaints about LG's services and products, users can leave comments and ratings below.
About LG Electronics and Appliances:
Founded in 1958, LG Electronics has been at the forefront of technological advancement in various sectors like home entertainment, mobile communications, home appliances, and air solutions. Their innovations are designed with the aim of making life good for their consumers, ensuring comfort, sustainability, and cutting-edge technology at their fingertips.
Where to Buy LG Products in the USA
In the USA, LG products are widely accessible and can be purchased from a multitude of outlets. Major electronics retailers like Best Buy, Target, and Walmart stock a broad range of LG products, from televisions and smartphones to home appliances. Additionally, online marketplaces such as Amazon and eBay offer an expansive selection, often complemented by customer reviews. For those who prefer a hands-on experience before purchasing, LG's dedicated showrooms and authorized dealers across the country provide the opportunity to explore the latest innovations and speak directly with knowledgeable staff.
LG's Competition:
LG operates in a competitive landscape, vying for the top spot with other global electronics giants. Prominent competitors include Samsung, their South Korean counterpart known for its vast electronics portfolio; Sony, a Japanese conglomerate with a significant presence in entertainment and electronics; GE, which, like LG, offers a wide array of home appliances; and numerous other brands that challenge LG in various segments of its diverse product lineup.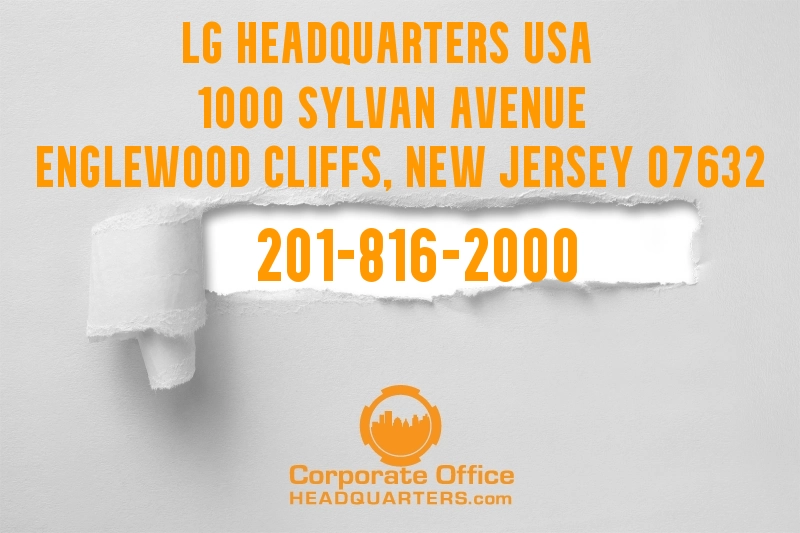 Why Trust CorporateOfficeHeadquarters.com?
At CorporateOfficeHeadquarters.com, trust and accuracy go hand in hand. Our curated database offers vetted corporate details, from phone numbers to addresses. Users can confidently share reviews and file complaints, all within a community dedicated to corporate transparency and accountability."
Disclaimer
CorporateOfficeHeadquarters.com is not associated with LG Corporate Headquarters. This website is for information, reviews, feedback, ratings, and complaints purposes only. Information was verified by a live person as of July 2023. Please report any errors to the webmaster.