How to Contact Volkswagen USA Corporate Office Headquarters HQ
Volkswagen Group of America
VW Corporate Headquarters Address
2200 Ferdinand Porsche Dr.
Herndon, VA 20171 USA
VW Corporate Phone Number: 1-248-754-5000
VW Customer Care Phone Number: 1-800-822-8987
Volkswagen Group of America is the corporate arm of the Volkswagen company in the United States. It is responsible for all Volkswagen operations in the country, including sales and marketing, manufacturing, and research and development.
The company has its headquarters in Herndon, Virginia, and operates a number of facilities around the country. Volkswagen Group of America is also responsible for customer service inquiries and complaints.
Volkswagen is a German car company with a variety of models in its lineup. Vehicles include small hatchbacks and sedans like the VW Golf and Arteon, as well as SUVs such as the Tiguan and Atlas. Competing auto companies include Honda, Buick, Toyota, Ford, Chevrolet, and Mazda.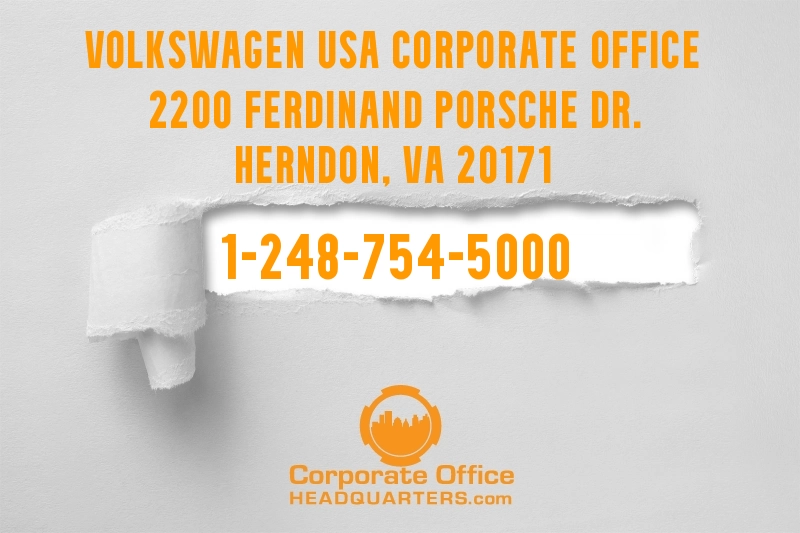 FAQ
How do I complain to VW USA? The easiest way to complain to VW USA is to call them at 1-800-822-8987. Ask to speak to a manager and then you can voice your complaint. Also, you may leave your complaint in the comment section below. This page gets hundreds of views and it is helpful for many customers. Your voice will be heard online and the company may change their policies once they understand many have the same issues.
Is Volkswagen VW associated with this website? CorporateOfficeHeadquarters.com is not associated with Volkswagen and VW. This Website is for informational and review purposes only.