Connecting with Mediacom Corporate Office Headquarters HQ
Introduction
Mediacom Communications Corporation, a leading provider of cable television, broadband internet and phone services, is an integral part of many households across America. Here's how you can reach out to Mediacom's corporate office in the United States.
Mediacom's Corporate Address:
Mediacom Communications Corporation
1 Mediacom Way,
Mediacom Park, NY 10918 USA
Contact Details for Mediacom Headquarters
Corporate Phone Number: 1-833-998-1824
Xtreme by Mediacom Customer Service Number: 1-855-633-4226
Customer Help by Text: Text: 66554
Operating Hours: Monday-Friday 8AM-8PM and Saturday and Sunday 8AM-5PM Central Time
Website: MediaComCable.com
Mediacom Communications Corporation Overview
As a premier communications provider in the United States, Mediacom offers a variety of services, including high-speed internet, digital cable TV, and home phone services. The company operates across many states, with its corporate office located in Mediacom Park, New York.
Other Notable Corporate Offices in New York
New York is home to many significant corporate offices besides Mediacom. Notable mentions include the headquarters of global financial institutions like Goldman Sachs and J.P. Morgan Chase, tech giant IBM, and media conglomerate ViacomCBS. These corporations not only contribute significantly to New York's economy but also impact global markets.
Related Corporate Offices Frequently Searched
Mediacom isn't the only communication services provider that consumers frequently seek contact information for. Companies like Comcast, Charter Communications, and AT&T are also often searched for due to their large customer bases and extensive service coverage.
Conclusion
Whether you have questions about services, require assistance, or want to share feedback, the team at Mediacom's corporate office is prepared to help. They are committed to delivering superior customer service and ensuring a seamless communication experience.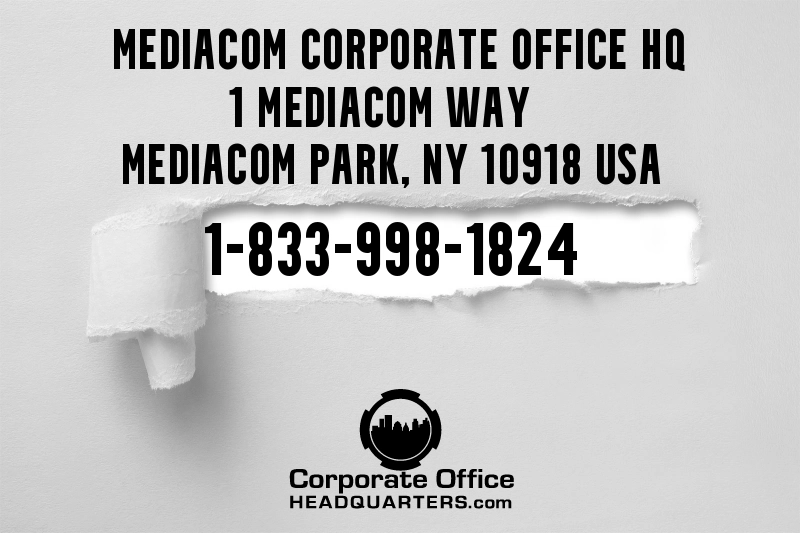 CorporateOfficeHeadquarters.com is not associated with MediaCom. This website is for information, reviews, feedback, ratings, and complaints purposes only. Information was verified by a live person as of June 2023. Please report any errors to the webmaster.
where is Mediacom headquarters?
Mediacom's headquarters are in New York. Their address is 1 Mediacom Way,
Mediacom Park, NY 10918 USA