Carrabbas Italian Grill, a well-known Italian restaurant chain, has its corporate office headquartered in Tampa, Florida. Below, you'll find comprehensive details about Carrabba's corporate office, including their address, contact numbers, and an overview of the company.
How To Contact Carrabba's Corporate Office Headquarters HQ
Carrabba's Italian Grill Corporate Office: Overview
A Snapshot of Carrabba's Italian Grill's History
Founded in 1986, Carrabba's Italian Grill has become a popular Italian restaurant chain, known for its authentic Italian dishes and warm hospitality. Carrabba's is part of the Bloomin' Brands family, which also owns Outback Steakhouse and Bonefish Grill.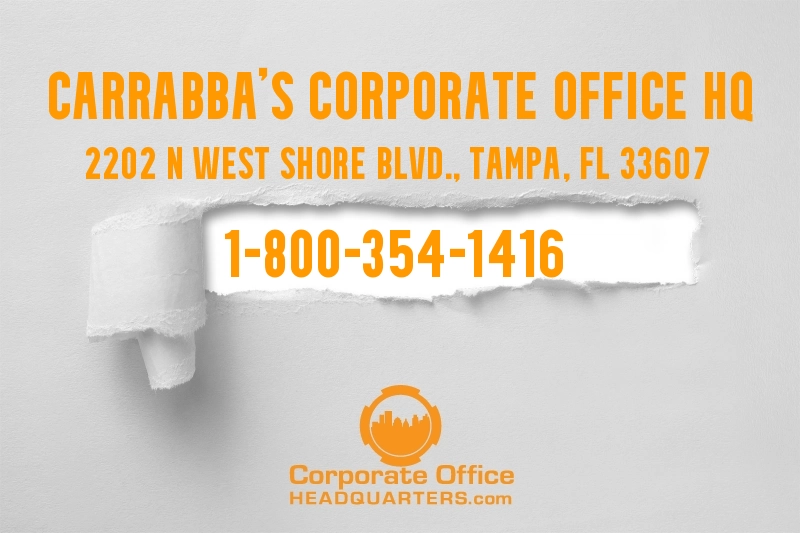 Map and Directions To Carrabba's Headquarters Address
The Restaurant Industry
In the competitive restaurant industry, Carrabba's Italian Grill competes with other Italian restaurant chains like Olive Garden and Maggiano's Little Italy. Carrabba's stands out for its focus on fresh, made-from-scratch Italian cuisine and a welcoming dining atmosphere.
Carrabba's Italian Grill's Commitment to Customers
Carrabba's Italian Grill's success is built on its commitment to providing customers with a taste of Italy through its diverse menu of pasta, seafood, and steak dishes. They prioritize quality ingredients, attentive service, and an authentic Italian dining experience.
Importance of Carrabba's Italian Grill in the Restaurant Sector
Carrabba's Italian Grill plays a significant role in the restaurant sector by offering a variety of Italian dishes that cater to a wide range of tastes. It's a go-to destination for Italian food enthusiasts and a place to celebrate special occasions.
Why Trust CorporateOfficeHeadquarters.com?
At CorporateOfficeHeadquarters.com, we are dedicated to providing accurate and up-to-date information about various corporations, including popular restaurant chains like Carrabba's Italian Grill. We ensure that our readers can rely on the information we provide.
Disclaimer:
CorporateOfficeHeadquarters.com is not affiliated with Carrabba's Italian Grill. This content serves informational purposes and is designed to offer a platform for reviews and user feedback.
Carrabba's Complaints, Reviews and Feedback
We encourage you to share your dining experiences at Carrabba's Italian Grill. Your feedback in the comment section below can help others discover the flavors and hospitality that Carrabba's has to offer.