Chilis corporate office is located in Texas. More information for Chilis is listed below including their address, phone number, customer reviews, and complaints.
How to Contact Chilis Corporate Office Headquarters HQ
Chili's Grill & Bar operates as a subsidiary of Brinker International, Inc., providing a range of culinary experiences to its customers. Brinker is located in the state of Texas.
The Headquarters of Chilis Corporate Office:
3000 Olympus Blvd Dallas, TX 75019 USA
Contact Details for Chili's:
Visit the Official Website at: Chilis.com
Market Competition:
Chili's positions itself in the casual dining restaurant sector, sharing the market space with competitors like Applebees, Ruby Tuesday, Hooters, Outback Steakhouse, Cheddars and Olive Garden.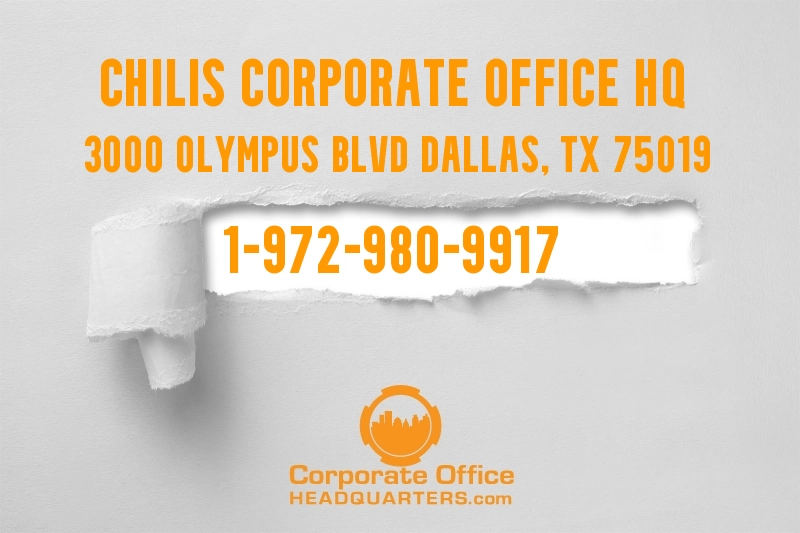 Maps and Directions To Chilis HQ
Why Trust CorporateOfficeHeadquarters.com?
"At CorporateOfficeHeadquarters.com, trust and accuracy go hand in hand. Our curated database offers vetted corporate details, from phone numbers to addresses. Users can confidently share reviews and file complaints, all within a community dedicated to corporate transparency and accountability."
Disclaimer
It's important to note that the website, CorporateOfficeHeadquarters.com, has no affiliation with Chili's. The purpose of this site is to provide informational content, facilitate reviews, feedback, and ratings, and allow for the filing of complaints. The provided information was validated by a live representative. Any discrepancies found in this data should be reported to the site's webmaster.
Chilis Corporate Complaints and Chilis Reviews and Feedback
See the comment and review section below to read or write complaints, reviews or to praise your experience with Chilis customer service and corporate office.