DirecTV, headquartered in El Segundo, California, is a leading provider of digital television entertainment services in the United States. Known for its satellite television service, DirecTV offers a wide range of channels, including high-definition and premium content. This post provides comprehensive details about DirecTV, highlighting their corporate address, contact information, and an overview of the company's services and position in the digital television industry.
Contacting DirecTV Corporate Office Headquarters HQ
DirecTV Headquarters – An Overview
DirecTV Corporate Address: 2260 East Imperial Highway, El Segundo, CA 90245, USA
DirecTV HQ Phone Number: 1-310-964-5000
DirecTV Main Office: 1-800-531-5000 (Customer Service)
DirecTV Customer Care: Accessible via their website or customer service line
Website: directv.com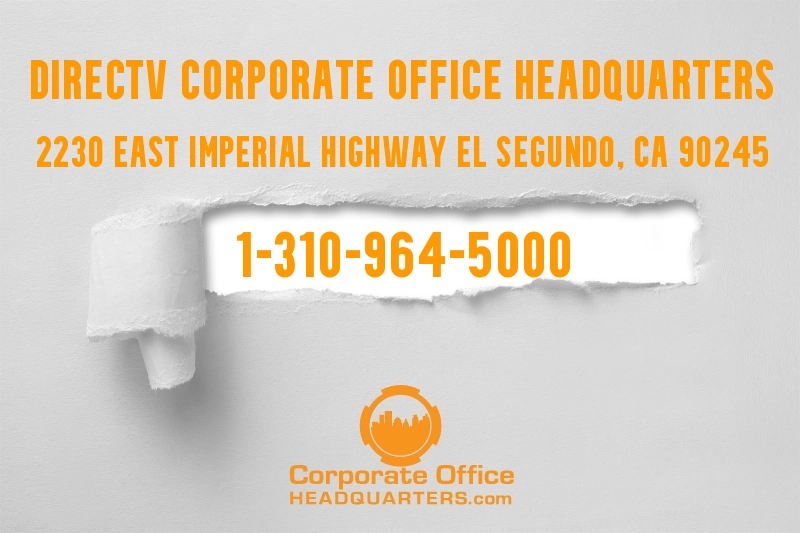 Maps and Directions To Corporate Headquarters
DirecTV's Role in the Digital Television Industry
DirecTV is a major player in the digital television industry, offering satellite-based entertainment services to millions of customers. The company is known for its extensive channel lineup, exclusive sports packages, and innovative technology, including DVR and on-demand features. DirecTV's commitment to delivering high-quality television entertainment has made it a preferred choice for many viewers.
The Competitive Landscape of Digital Television Services and DirecTV's Position
In the competitive market of digital television services, DirecTV faces challenges from cable providers, streaming services, and other satellite TV companies. The brand differentiates itself with its wide array of programming options, exclusive content, and commitment to customer service. DirecTV's focus on sports programming and high-definition content helps maintain its strong presence in the industry. DirecTV's competitors include Verizon, Cox, Optimum, and Xfinity.
DirecTV Corporate Office Complaints, Reviews, and Feedback
We encourage you to share your experiences with DirecTV's service, channel offerings, customer support, and overall satisfaction with their television packages. Your feedback in the comments section is invaluable, providing insights that help others understand DirecTV's operations and commitment to customer satisfaction in the digital television sector. Whether you have compliments, complaints, or suggestions, your perspectives are essential in evaluating the company's performance and service quality.
Why Trust CorporateOfficeHeadquarters.com?
CorporateOfficeHeadquarters.com aims to provide accurate and current information on corporations like DirecTV. We ensure our readers can trust us for reliable and comprehensive corporate details.
Disclaimer
Please be aware that CorporateOfficeHeadquarters.com is not officially affiliated with DirecTV. The content provided is for informational purposes and serves as a platform for customer reviews, feedback, and corporate complaints.