Dollar General is a popular chain of Dollar-style stores that sell discounted merchandise and groceries. The Dollar General Main Office is located in Tennessee. More contact information is listed below.
How to Contact Dollar General Corporate Office Headquarters HQ
Dollar General Corp.
Dollar General Corporate Office Address and Location
Dollar General Corporate Address: 100 Mission Ridge Goodlettsville, TN 37072 USA
Dollar General Headquarters & More Contact Phone Numbers
Corporate Dollar General Phone Number: 615-855-4000
Fax Number: 615-386-9936
Customer Care Phone Number: 877-463-1553
Dollargeneral.com: 877-463-1553
Website: https://www.dollargeneral.com/
Dollar General Company Bio
Hassle-free and affordable shopping with more than 18,000 convenient, easy-to-shop stores in 47 states. Dollar General delivers everyday low prices on items including food, snacks, health, and beauty aids, cleaning supplies, basic apparel, housewares, seasonal items, paper products, and much more from America's most-trusted brands and products, along with high-quality private brands.
Dollar General's Competition
Dollar General's main competitors are Walmart, Walgreens, Family Dollar, Dollar Tree, and Target.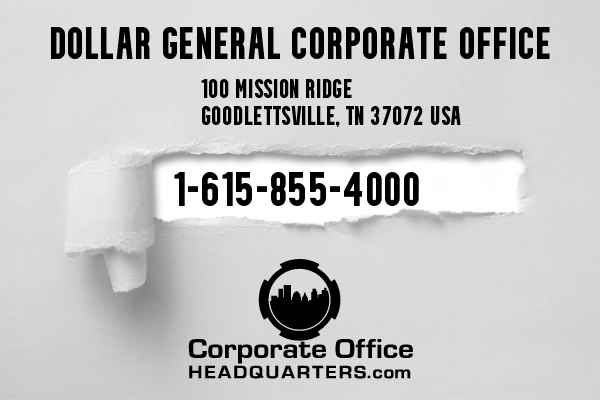 Why Trust CorporateOfficeHeadquarters.com?
"At CorporateOfficeHeadquarters.com, trust and accuracy go hand in hand. Our curated database offers vetted corporate details, from phone numbers to addresses. Users can confidently share reviews and file complaints, all within a community dedicated to corporate transparency and accountability."
Disclaimer
CorporateOfficeHeadquarters.com is not associated with Dollar General Stores. This website is for information, reviews, feedback, ratings, and complaint purposes only.
Dollar General Corporate Headquarters Reviews and Dollar General Complaints and Praise
See the comment and review section below to read or write complaints, reviews or to praise your experience with Dollar General's customer service and corporate office.