Dollar Tree Corporate Office, a prominent player in the discount retail market, is headquartered in Chesapeake, Virginia, United States. Below are comprehensive details about Dollar Tree's corporate office, including their address, contact numbers, and a brief overview of the company.
How To Contact Dollar Tree Corporate Office Headquarters HQ
DollarTree Corporate Headquarters: Overview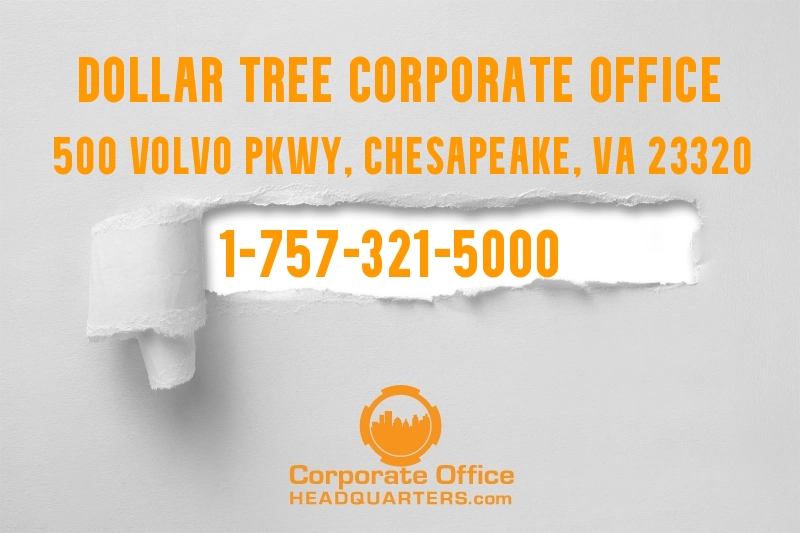 Maps and Directions To Dollar Tree Headquarters
A Snapshot of Dollar Tree's History
Dollar Tree, founded in 1986, has become one of the leading discount variety stores in North America. Known for selling items for $1 or less, it operates thousands of stores across the United States and Canada. Dollar Tree offers a diverse range of products, including household items, groceries, health and beauty products, and seasonal decor.
The Discount Retail Industry and Dollar Tree's Position
Dollar Tree competes in a highly competitive discount retail sector, with key competitors including Dollar General, Family Dollar (which it owns), and Five Below. Dollar Tree differentiates itself by maintaining the one-dollar price point for all items, appealing to budget-conscious consumers seeking value. Dollar Tree also faces competition from Walmart, and Amazon.
Dollar Tree's Customer-Centric Approach
At the heart of Dollar Tree's success is its focus on providing value to customers. The brand is committed to a simple shopping experience, offering a variety of quality products at an unbeatable price, catering to a wide range of consumer needs.
Why Trust CorporateOfficeHeadquarters.com?
At CorporateOfficeHeadquarters.com, we strive to deliver precise and up-to-date information on various corporations. Our commitment to accuracy ensures our readers can rely on the information we provide about companies like Dollar Tree.
Disclaimer:
CorporateOfficeHeadquarters.com is not affiliated with Dollar Tree, Inc. This content is for informational purposes and is designed to offer a platform for reviews and user feedback.
Dollar Tree Corporate Office Complaints, Reviews, and Feedback
We encourage you to share your experiences with Dollar Tree's products, pricing, and store experience. Your feedback in the comment section is invaluable, providing insights that help others understand Dollar Tree's operations and customer service.
Where is the main dollar tree corporate office?
Dollar Tree's home office and corporate office is located at: 500 Volvo Parkway
Chesapeake, Virginia 23320 USA
How do I email the dollar tree corporate office?
Dollar Tree's does not publish corporate email addresses. However you can contact them using their online form. Visit Dollar Tree's contact us page here. Then select the customer feedback link in the middle of the page and choose company and product information.