How to Contact Family Dollar Corporate Office Headquarters HQ
Family Dollar Stores
Family Dollar Corporate Address:
10401 Monroe Road (PO Box 1017)
Charlotte, NC 28201 USA
Family Dollar Contact Phone Numbers and Website:
Corporate Phone Number: 1-704-847-6961
Corporate Fax Number: 1-704-847-5534
Corporate Email: info@familydollar.com
Complaints, Feedback, and Customer Support: 1-866-377-6420
Stock Symbol: Private Company
Website: FamilyDollar.com
Family Dollar is famous for its chains of dollar stores. Family Dollar operates over 7,000 stores in 44 US States. Family Dollar is one of the premier discount retailers in the USA.
Family Dollar's Toll-Free 800 Number is 1-866-377-6420. The company does encourage users to use their technical support system and help forums on their website.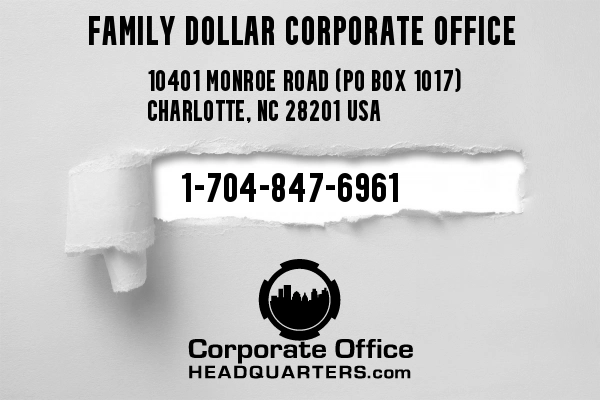 CorporateOfficeHeadquarters.com is not associated with Family Dollar Stores. This website is for information, reviews, feedback, ratings, and complaint purposes only.