Family Dollar's Headquarters are located in North Carolina. More contact information for Family Dollar Stores is listed below.
How to Contact Family Dollar Corporate Office Headquarters HQ
Family Dollar Stores – Dollar Tree Inc.
Family Dollar Corporate Address – Distribution Center
10401 Monroe Road Charlotte, NC 28201 USA  or (PO Box 1017)
Family Dollar Parent Company – Dollar Tree Inc.
Dollar Tree – 500 Volvo Parkway Chesapeake, VA 23320 USA
Family Dollar Contact Phone Numbers and Website:
Family Dollar Head Office Phone Number: 704-847-6961
Dollar Tree & Family Dollar Corporate Number: 757-321-5000
Corporate Family Dollar Fax Number: 704-847-5534
Family Dollar Legal Department: 757-321-5000
Corporate Email: Contact your local store
Family Dollar Complaints, Feedback, and Customer Support: 866-377-6420
Dollar Tree Inc, Stock Symbol: DLTR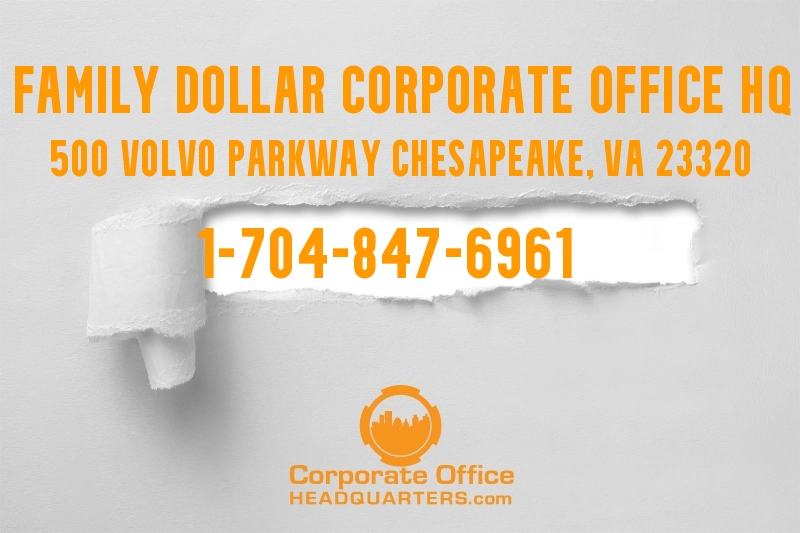 Maps and Directions To Family Dollar Corporate Office
Family Dollar Website: FamilyDollar.com
About Family Dollar and Dollar Tree Inc.
Family Dollar is famous for its chains of dollar stores. Family Dollar operates over 7,000 stores in 44 US States. Family Dollar is one of the premier discount retailers in the USA. Family Dollar's Toll-Free 800 Number is 1-866-377-6420. The company does encourage users to use their technical support system and help forums on their website. Family Dollar and Dollar Tree are now part of the same corporate family.
Family Dollar's Competition in the Dollar Store Industry
Family Dollar, a staple in the discount retail segment, faces stiff competition in the rapidly growing dollar store industry. Leading the charge alongside Family Dollar are prominent chains such as Dollar General and Walmart. Each brand endeavors to carve out its unique niche, offering a mix of value-driven products to attract a diverse customer base. Family Dollar also faces online competition from Amazon.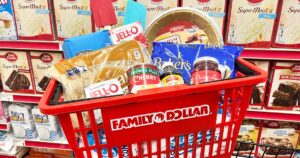 Why Trust CorporateOfficeHeadquarters.com?
"At CorporateOfficeHeadquarters.com, trust and accuracy go hand in hand. Our curated database offers vetted corporate details, from phone numbers to addresses. Users can confidently share reviews and file complaints, all within a community dedicated to corporate transparency and accountability."
Disclaimer
CorporateOfficeHeadquarters.com is not associated with Family Dollar Stores. This website is for information, reviews, feedback, ratings, and complaints purposes only. Information was verified by a live person. Please report any errors to the webmaster.
Family Dollar Corporate Headquarters Reviews and Family Dollar Complaints and Praise:
See the comment and review section below to read or write complaints, reviews, or praise your experience with Family Dollar's corporate office and customer service.
How do i get in touch with the family dollar corporate office?
Family Dollar and Dollar Tree and now merged. The best way to reach Family Dollar's corporate office is by phone. The combined phone number is 757-321-5000.