Element Hotels Corporate office is located at Marriott International in Maryland.
How to Contact Element Hotel Corporate Office Headquarters HQ
Element Hotels Parent Company
Marrriott International Inc.
Official Corporate Address
Element Headquarters
10400 Fernwood Road
Bethesda, MD 20817 USA
Element Hotels Phone Numbers and Contact Information
Reservations: 1-800-627-7468
Element Hotel Phone Number: 1-301-380 3000
Element Phone Number: 1-800-627-7468
Website: Element Hotels
Element Corporate Office Chat and Email: Contact Element Hotels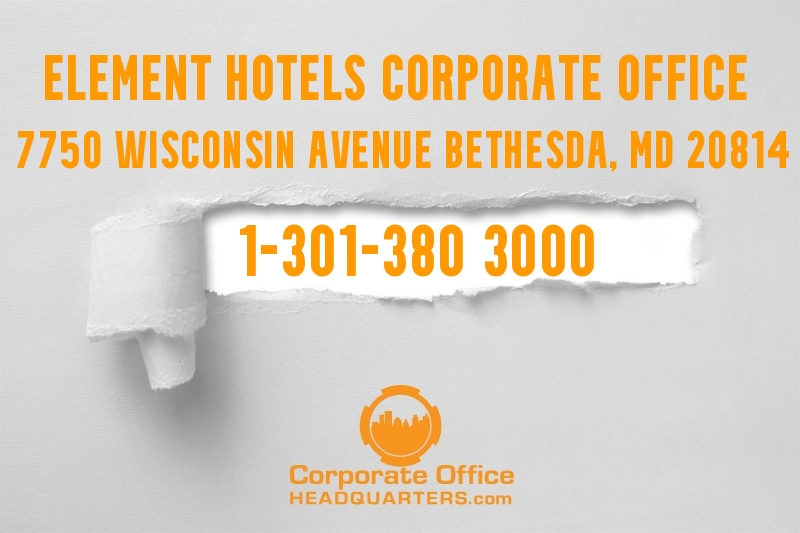 Element Hotels Bio
Element Hotels is part of the Marriott International. Other hotels with the same parent company include Marriott, Sherton, Delta Hotels, Marriott Vacation Club, Westin, Meriden, Renaissance Hotels, Autograph Collection. Also, Courtyard by Marriott, Four Points, Springhill Suites, Fairfield, Loft, Residence Inn and Townplace Suites. Element Hotel's main competitors include Wyndham, Hyatt and Hilton.
Element Hotels: An Overview
Introduced in 2008, Element Hotels is a unique brand under the Marriott International umbrella, focusing on eco-consciousness and sustainable living. Crafted for travelers who are both environmentally and health-conscious, Element distinguishes itself by providing space-efficient designs, natural light, and modern amenities. These include fully equipped in-room kitchens, spa-inspired bathrooms, and versatile workspaces. An emphasis on reducing waste and eco-friendly practices are at the brand's core. With its commitment to green initiatives and promoting well-being, Element Hotels seeks to redefine the extended stay experience. As the brand expands, it continues to emphasize Marriott's dedication to innovation in the hospitality industry.
Element Hotels: Standing Out Among Eco-Friendly Competitors
The eco-conscious hotel space has seen significant growth in recent years, placing Element Hotels in competition with other green-focused brands. Names such as 1 Hotels, Kimpton EarthCare program, and EVEN Hotels by IHG are also paving the way for sustainable hospitality, offering eco-friendly amenities and practices. However, Element's blend of extended-stay features with its green commitments sets it apart. As modern travelers grow more environmentally conscious and demand sustainable choices, Element Hotels, along with its competitors, are leading the charge, constantly evolving to meet these ever-changing preferences.
Why Trust CorporateOfficeHeadquarters.com?
"At CorporateOfficeHeadquarters.com, our commitment to accuracy is unwavering. Users can expect reliable corporate details, from direct phone lines to official addresses. Sharing reviews, praising, or filing complaints becomes seamless in our dedicated community, all centered on fostering corporate transparency."
Disclaimer
CorporateOfficeHeadquarters.com is not associated with Element Hotels or Marriott International. This platform is purely for informative, feedback, and review purposes.
Element Hotels Corporate Headquarters Reviews and Feedback
Dive into our comment and review section below to share your thoughts, explore others' experiences, or offer feedback about Element Hotels' customer service and corporate management. Your insights are invaluable, helping both the brand and potential guests.