Comfort Suites corporate office is located in Alabama. More information for Comfort Suites is listed below including their address, phone number, customer reviews, and complaints.
How to Contact Comfort Inn Corporate Office Headquarters HQ:
Choice Hotels International, Inc.
Comfort Suites Official Corporate Address:
Choice Hotels International, Inc.
Address: 10750 Columbia Pike Silver Spring, MD 20901 USA
Email Help & Chat: Contact Page
Comfort Inn and Suites Corporate Phone Number: 1-301-592-5000
Fax Number: 1-301-592-6157
Customer Support: 1-877-424-6423
Comfort Suites Company Profile and Bio:
Comfort Suites is part of Choice Hotels International. The Comfort Suites corporate office is located in Silver Spring Maryland. The phone number for the Comfort Suites corporate office is 1-301-592-5000.
Comfort Suites Competition
Comfort Suites specializes in mid-priced hotels located in the United States. Comfort Suite's competitors include Holiday Inn Express, Marriott, Hilton, and LaQuinta.
Maps and Directions to Comfort Suites Headquarters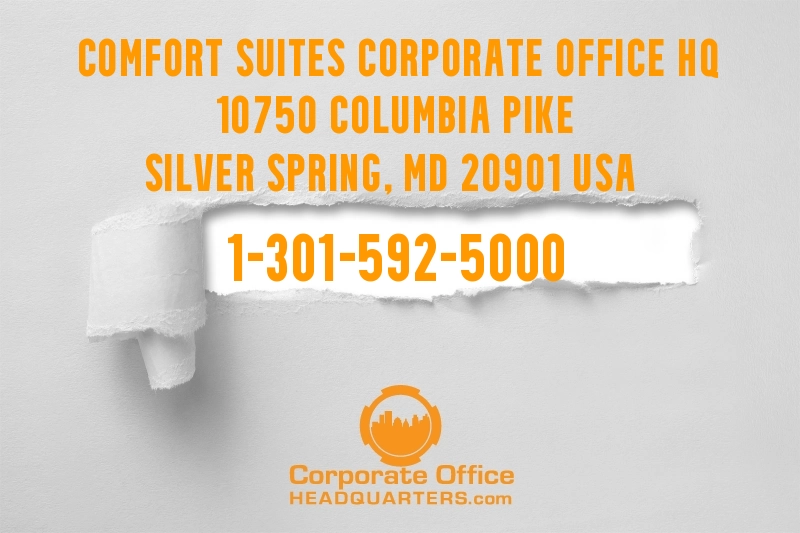 Why Trust CorporateOfficeHeadquarters.com?
"At CorporateOfficeHeadquarters.com, trust and accuracy go hand in hand. Our curated database offers vetted corporate details, from phone numbers to addresses. Users can confidently share reviews and file complaints, all within a community dedicated to corporate transparency and accountability."
Disclaimer
CorporateOfficeHeadquarters.com is not associated with Comfort Suites. This Website is for informational and review and Complaint purposes only.
Comfort Suites Corporate Complaints and Comfort Suites Complaints, Reviews and Feedback
See the comment and review section below to read or write complaints, reviews or to praise your experience with Comfort Suites customer service and corporate office.