Jiffy Lube Corporate Office, a leading provider of automotive maintenance and repair services, is headquartered in Houston, Texas. Specializing in oil changes, tire rotations, and other vehicle maintenance services, Jiffy Lube caters to customers seeking quick, reliable, and professional automotive care. This post provides detailed information about Jiffy Lube's corporate office, including their address, contact numbers, and an overview of the company's services and position in the automotive service industry.
Contacting Jiffy Lube Corporate Office Headquarters HQ
Jiffy Lube Headquarters: An Overview
Corporate Address: 700 Milam St., Houston, TX 77002, USA
Phone Number: 1-713-546-4100
Customer Service Number: 1-800-344-6933
Jiffy Lube Customer Care: Accessible via their website or customer service line
Website: jiffylube.com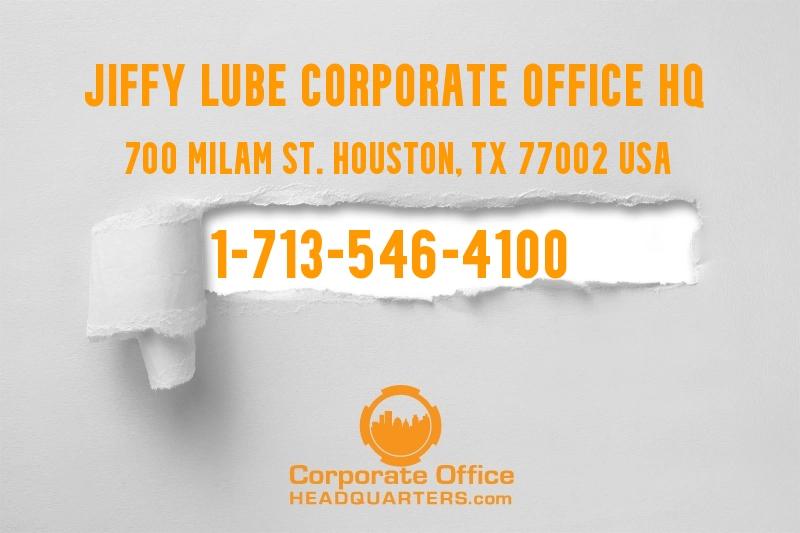 Maps and Directions To Jiffy Lube Corporate Headquarters
Jiffy Lube's Role in the Automotive Service Industry
Jiffy Lube is a prominent player in the automotive service industry, recognized for its wide range of maintenance services that are essential for vehicle upkeep. The brand is particularly known for its signature oil change service, but it also offers a variety of other maintenance services, making it a convenient choice for drivers.
The Competitive Landscape of Automotive Services
In the competitive market of automotive services, Jiffy Lube faces challenges from both national chains and local auto service shops. It competes with companies like Valvoline, Take 5, Midas, and Pep Boys which offer similar automotive maintenance and repair services. Jiffy Lube differentiates itself with its focus on quick and efficient service, a nationwide network of locations, and a commitment to customer satisfaction.
Jiffy Lube Corporate Office Complaints, Reviews, and Feedback
We encourage you to share your experiences with Jiffy Lube's service quality, customer service, pricing, and overall satisfaction with the automotive care provided. Your feedback in the comments section is invaluable, providing insights that help others understand Jiffy Lube's operations and commitment to customer satisfaction in the automotive service sector. Whether you have compliments, complaints, or suggestions, your perspectives are important in evaluating the company's performance and service quality.
Why Trust CorporateOfficeHeadquarters.com?
CorporateOfficeHeadquarters.com aims to provide accurate and current information on corporations like Jiffy Lube. We ensure our readers can trust us for reliable and comprehensive corporate details.
Disclaimer
Please be aware that CorporateOfficeHeadquarters.com is not officially affiliated with Jiffy Lube. The content provided is for informational purposes and serves as a platform for customer reviews, feedback, and corporate complaints.