Taco Cabana, headquartered in San Antonio, Texas, is a popular regional restaurant chain known for its Mexican-inspired cuisine. With a focus on fresh, authentic dishes, Taco Cabana offers a variety of tacos, burritos, quesadillas, and other Tex-Mex favorites. This post provides comprehensive details about Taco Cabana, highlighting their corporate address, contact information, and an overview of the company's services and position in the fast-casual dining industry.
Contacting Taco Cabana Corporate Office Headquarters HQ
Taco Cabana Headquarters – An Overview
Taco Cabana Corporate Address: 1077 Central Pkwy S #600, San Antonio, TX 78232
Taco Cabana HQ Phone Number: 1-210-804-0990
Taco Cabana Main Office: 1-210-283-5500
Corporate Fax Number: 1-210-804-1970
Taco Cabana Customer Care: Accessible via their website or customer service line
Website: tacocabana.com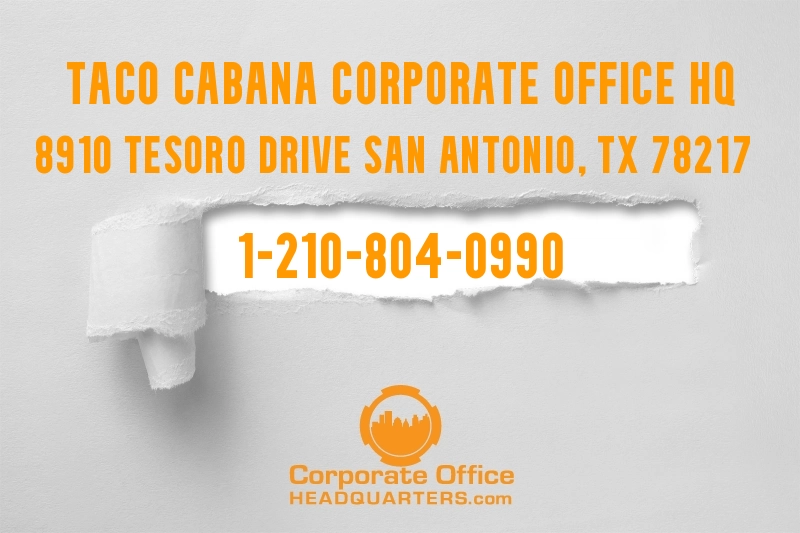 Maps and Directions To Taco Cabana Corporate Headquarters
Taco Cabana's Role in the Fast-Casual Dining Industry
Taco Cabana is a significant player in the fast-casual dining sector, offering a unique dining experience with its fresh, made-to-order Mexican cuisine. Known for its vibrant and inviting atmosphere, Taco Cabana provides customers with a casual, yet authentic dining experience. The chain's commitment to quality ingredients and traditional cooking methods has made it a favorite among Tex-Mex enthusiasts.
The Competitive Landscape of Fast-Casual Mexican Cuisine and Taco Cabana's Position
In the competitive market of fast-casual Mexican cuisine, Taco Cabana faces challenges from other restaurant chains like Chipotle, Qdoba, and local Tex-Mex eateries, like Fuzzy's. Taco Cabana sets itself apart with its distinctive menu offerings, all-day breakfast options, and a focus on a genuine Tex-Mex experience. The brand's dedication to providing flavorful, affordable meals in a relaxed setting helps maintain its strong position in the industry.
Taco Cabana Corporate Office Complaints, Reviews, and Feedback
We encourage you to share your experiences with Taco Cabana's menu items, restaurant ambiance, customer service, and overall dining experience. Your feedback in the comments section is invaluable, providing insights that help others understand Taco Cabana's operations and commitment to customer satisfaction. Whether you have compliments, complaints, or suggestions, your perspectives are crucial in evaluating the company's performance in the fast-casual dining sector.
Why Trust CorporateOfficeHeadquarters.com?
CorporateOfficeHeadquarters.com aims to provide accurate and current information on corporations like Taco Cabana. We ensure our readers can trust us for reliable and comprehensive corporate details.
Disclaimer
Please be aware that CorporateOfficeHeadquarters.com is not officially affiliated with Taco Cabana. The content provided is for informational purposes and serves as a platform for customer reviews, feedback, and corporate complaints.