84 Lumber corporate office is located in Eighty Four, Pennsylvania. Known for its extensive range of high-quality building products and services, 84 Lumber caters to both professional contractors and individual homeowners. Offering everything from lumber to custom millwork, 84 Lumber has established itself as a go-to source for construction and renovation needs. This post provides detailed information about 84 Lumber Company, including their corporate address, contact numbers, and an overview of the company's services and position in the building supply industry.
Contacting 84 Lumber Corporate Office Headquarters HQ
84 Lumber Headquarters: An Overview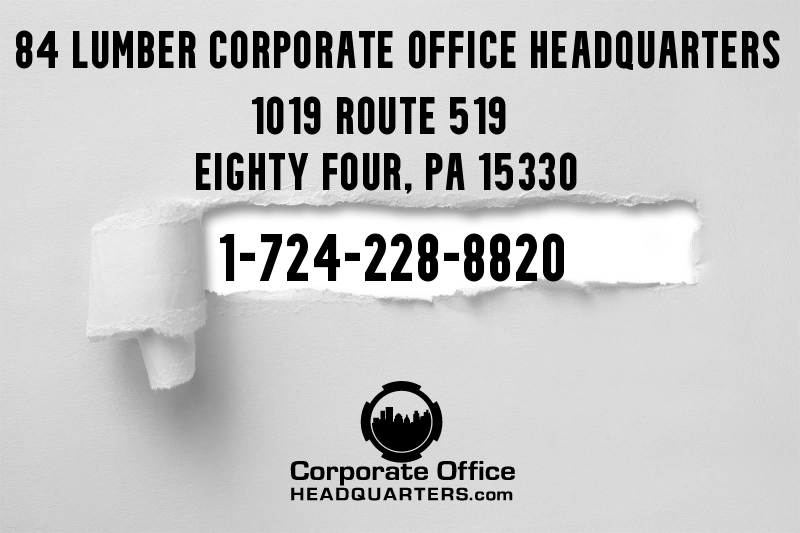 Maps and Directions To 84 Corporate Headquarters
84 Lumber's Role in the Building Materials Industry
84 Lumber is renowned for its comprehensive selection of building materials and services, catering to a wide range of construction projects. The company's focus on quality products, customer service, and sustainable practices has made it a trusted name in the industry.
The Competitive Landscape of Building Materials Suppliers
In the competitive building materials market, 84 Lumber faces challenges from both large and smaller competitors. Major national chains like Ace Hardware, Home Depot, Lowe's, and Menards are key competitors, offering a broad range of construction supplies. Additionally, 84 Lumber competes with regional and local suppliers, which also provide building materials and specialized services to their local markets.
84 Lumber Complaints, Reviews, and Feedback
We encourage you to share your experiences with 84 Lumber's product range, service quality, pricing, and overall satisfaction with the company. Your feedback in the comments section is invaluable, providing insights that help others understand 84 Lumber's operations and commitment to excellence in the building materials sector. Whether you have compliments, complaints, or suggestions, your perspectives are important in evaluating the company's performance and customer service.
Why Trust CorporateOfficeHeadquarters.com?
CorporateOfficeHeadquarters.com aims to provide accurate and current information on corporations like 84 Lumber. We ensure our readers can trust us for reliable and comprehensive corporate details.
Disclaimer
Please be aware that CorporateOfficeHeadquarters.com is not officially affiliated with 84 Lumber. The content provided is for informational purposes and serves as a platform for customer reviews, feedback, and corporate complaints.
edback, ratings, and complaint purposes only.