Country Inn Corporate Office is located in Maryland, USA. More information to reach out to The Country Inn is listed below, including the Country Inn and Suites corporate office address, phone numbers, and websites. Also, customer reviews and Country Inn complaints.
How To Contact Country Inn and Suites Corporate Office Headquarters HQ
Country Inn & Suites Corporate Address Americas
Call Center – 11340 Blondo St. Omaha, Nebraska 68164 USA
Corporate Phone Number: 301 592 5000
Customer Service Number: 1-800-830-5222
TTY: 1-402-501-5159
Reservations: 1-800-830-5222
Website: CountryInnandSuites.com
Stock: CHH
Choice Hotels Parent Company of Country Inn and Suites
1 Choice Hotels Circle
Suite 400
Rockville, MD 20850
Map and Directions to Country Inn and Suites HQ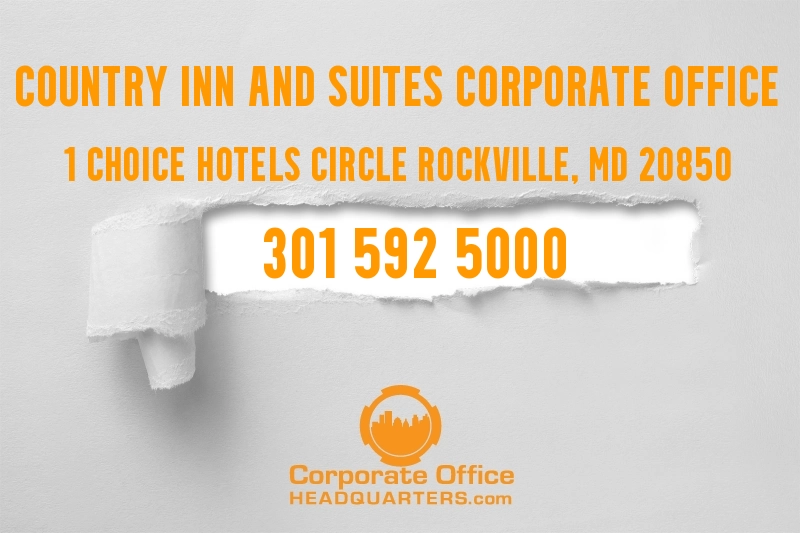 Country Inn & Suites: An Overview
Established in 1987, Country Inn & Suites by Radisson is an upscale hotel chain that is part of the Radisson Hotel Group owned by Choice Hotels. Originally rooted in providing a homely and comfortable environment for travelers in the Midwest, the brand has now expanded its presence to multiple regions globally. Distinctive features of Country Inn & Suites hotels include their homey decor, a free breakfast spread, and a lending library, reinforcing the brand's commitment to ensuring a relaxing and warm experience for its guests. Their warm hospitality and commitment to guest satisfaction have allowed Country Inn & Suites to maintain a loyal customer base and remain a preferred choice for many travelers.
Navigating the Hotel Landscape: Country Inn & Suites' Competitors
The hotel industry teems with numerous brands vying for guests' attention, and Country Inn & Suites faces healthy competition in the mid-scale segment. Prominent rivals include Holiday Inn Express (by IHG), Hampton by Hilton, and Fairfield by Marriott, all of which also emphasize comfort and value for their guests. These brands, alongside others, compete on various fronts, such as amenities, loyalty programs, and location availability. As the hotel landscape continues to evolve with the modern traveler's needs, Country Inn & Suites, along with its competitors, continually adapts its offerings to stand out in a crowded market.
Why Trust CorporateOfficeHeadquarters.com?
"At CorporateOfficeHeadquarters.com, our core values revolve around delivering trustworthy and transparent information. We provide an extensive database of corporate details, ensuring accuracy from phone numbers to addresses. Users can freely share reviews and lodge complaints, building a community centered on corporate accountability."
Disclaimer
CorporateOfficeHeadquarters.com is not affiliated with Country Inn & Suites, Choice Hotels or Radisson Hotel Group. This site is purely for informational, review, and feedback purposes.
Country Inn & Suites Corporate Headquarters Reviews and Feedback
Dive into the comment and review section below to pen your thoughts, read others' experiences, or share insights regarding Country Inn & Suites' customer service and corporate office. Your feedback plays a crucial role in guiding potential guests.