Econo Lodge Corporate Office is located in Silver Spring, Maryland. EconoLodge is part of the Choice Hotel International
Connecting with EconoLodge Corporate Office Headquarters HQ
Introduction
EconoLodge is a widely recognized brand in the affordable hotel industry. It is part of the Choice Hotels International, Inc. conglomerate. Here's how you can reach their corporate headquarters in the United States.
Econo Lodge Corporate Headquarters Address
Choice Hotels International, Inc.
Econo Lodge Address HQ – 10750 Columbia Pike Silver Spring, MD 20901 USA
Econo Lodge Headquarters and Other Contact Details
Econo Lodge Corporate Number: 301-592-5000
Econo Lodge Corporate Phone Number to Fax:  301-592-6157
Econo Lodge Complaints & Customer Service:  877-424-6423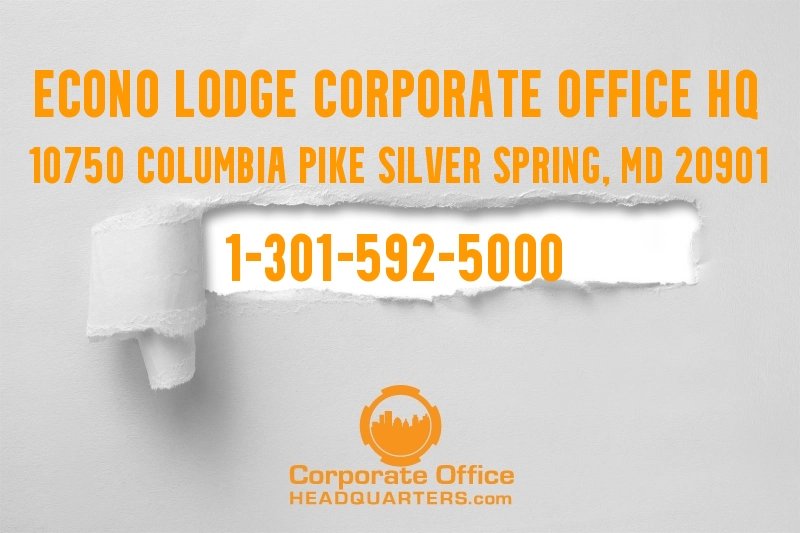 Maps and Directions to Econo Lodge Headquarters and Head Office
EconoLodge Brand Overview
EconoLodge is one of the brands under the umbrella of Choice Hotels International, Inc., a significant player in the hospitality industry. EconoLodge offers value-oriented accommodations to travelers across the United States.
Competitors
EconoLodge's main competitors are other economy lodging brands, such as Motel 6, Super 8, and Travelodge. These companies all strive to provide affordable, clean, and comfortable accommodations to travelers on a budget.
Corporate Offices in Maryland
Maryland is home to the corporate offices of several other notable companies. These include Marriott International, Lockheed Martin, and Under Armour. Their presence contributes to Maryland's reputation as a hub for business and innovation.
Frequently Searched Corporate Offices in the USA
In addition to EconoLodge, there are many other companies with corporate offices that are frequently searched for in the USA. These include major corporations such as Amazon, Google, and Apple. Their significant impact on various industries and influence on the economy leads to a high level of interest.
Conclusion
Whether you're a customer with a question or a business partner looking to get in touch, EconoLodge's corporate office is ready to assist. Their team is committed to providing excellent service and maintaining their reputation for affordable, quality lodging.
CorporateOfficeHeadquarters.com is not associated with EconoLodge or Choice Hotels International, Inc. This website is for information, reviews, feedback, ratings, and complaints purposes only. Information was verified by a live person. Please report any errors to the webmaster.
Econo Lodge Reviews – Econo Lodge Complaints and Praise
See below to leave comments, reviews, or complaints regarding Econo Lodge. Also, you may rate your experience with Econo Lodge below to help other users with their travel decisions.