Goodyear Corporate Office is located in Akron, Ohio, USA. As one of the world's leading tire companies, Goodyear is well-known for its innovative tire products and comprehensive automotive services through Goodyear Tire Centers. Below are comprehensive details about Goodyear's corporate office, including their address, contact numbers, and a brief overview of the company.
How To Contact Goodyear Corporate Office Headquarters HQ
Goodyear Corporate Office: Overview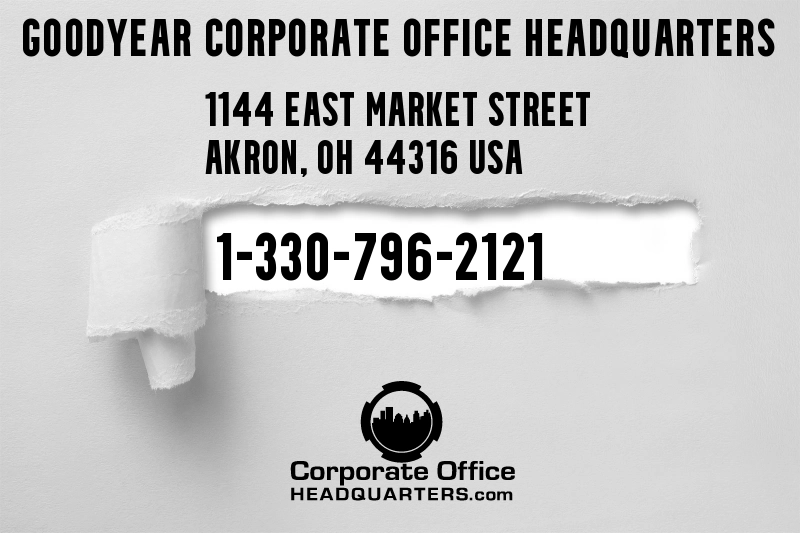 Maps and Directions To Goodyear Corporate Headquarters
A Snapshot of Goodyear's History
Founded in 1898, Goodyear has a rich history in tire manufacturing and innovation. Over the years, Goodyear has expanded its operations to include Goodyear Tire Centers, offering a wide range of automotive services and products, including tire installation, maintenance, and repair.
The Tire and Automotive Service Industry and Goodyear's Position
In the tire and automotive service market, Goodyear competes with other major companies like Michelin, Bridgestone, and Firestone. Goodyear sets itself apart with its commitment to quality, safety, and innovation, both in its tire products and automotive services offered at Goodyear Tire Centers. Goodyear Tire Centers compete with Tires Plus, Tire Rack, Discount Tire, NTB, and Mavis.
Goodyear's Customer-Centric Approach
Goodyear is dedicated to delivering exceptional products and services to its customers. The company focuses on providing reliable and high-performance tire solutions while ensuring customer satisfaction through professional and comprehensive automotive services at its Goodyear Tire Centers.
Why Trust CorporateOfficeHeadquarters.com?
At CorporateOfficeHeadquarters.com, we strive to deliver precise and up-to-date information on various corporations. Our commitment to accuracy ensures our readers can rely on the information we provide about companies like Goodyear.
Disclaimer:
CorporateOfficeHeadquarters.com is not affiliated with The Goodyear Tire & Rubber Company. This content is for informational purposes and is designed to offer a platform for reviews and user feedback.
Goodyear Corporate Office Complaints, Reviews, and Feedback
We encourage you to share your experiences with Goodyear's tire products and services, as well as the customer service at Goodyear Tire Centers. Your feedback in the comment section is invaluable, providing insights that help others understand Goodyear's commitment to quality and customer service in the tire and automotive industry.