Ross Corporate Office, a leading figure in the off-price retail industry, is headquartered in Dublin, California, United States. Below are comprehensive details about Ross Stores' corporate office, including their address, contact numbers, and a brief overview of the company.
How To Contact Ross Stores Corporate Office Headquarters HQ
Ross Stores Corporate Office: Overview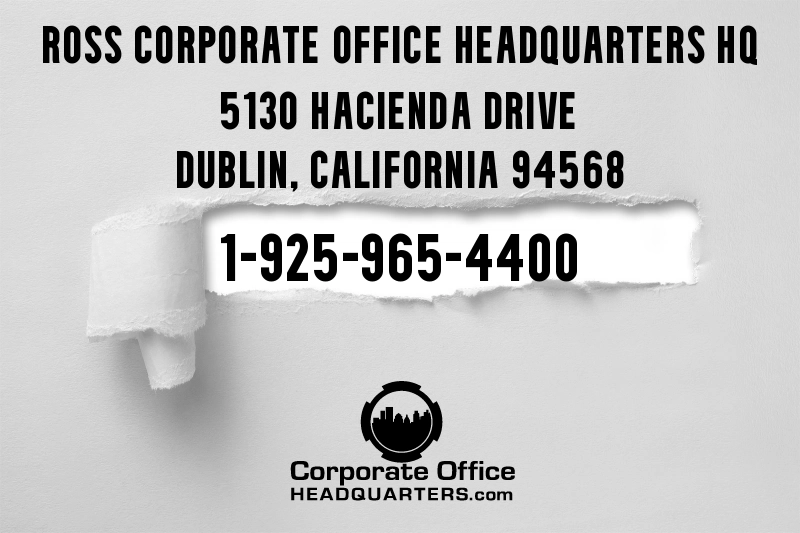 Maps and Directions To Ross Dress For Less Corporate Office
A Snapshot of Ross Stores' History
Ross Stores, Inc., commonly known as Ross Dress for Less, was founded in 1982. It's now one of the largest off-price retail chains in the United States, offering discounts on clothing, footwear, home decor, and accessories. Ross is known for its strategy of "no-frills" shopping and passing the savings to the customers. Ross Dress for Less has been on a mission to bring high-quality clothing at extraordinary savings while providing an easy, fun, and organized shopping experience. From their humble beginnings in 1982 as a single store,  today they are the go-to multiple store chain where you can find everything from casual wear accessories to business attire.
The Off-Price Retail Industry and Ross Stores' Position
Ross Stores operates in the competitive off-price retail sector, vying with other major players like TJ Maxx, Marshalls, Sierra and Burlington. Its business model revolves around selling high-quality merchandise at significantly lower prices than conventional retail stores, catering to budget-conscious consumers who value deals. Ross also faces stiff competition from Walmart and Amazon.
Ross Stores' Customer-Focused Strategy
At the core of Ross Stores' success is its commitment to providing customers with a "treasure hunt" shopping experience. This involves regularly updating inventory with exciting new finds, ensuring customers always have something new to discover at bargain prices.
Why Trust CorporateOfficeHeadquarters.com?
At CorporateOfficeHeadquarters.com, we strive to deliver precise and up-to-date information on various corporations. Our commitment to accuracy ensures our readers can rely on the information we provide about companies like Ross Stores.
Disclaimer:
CorporateOfficeHeadquarters.com is not affiliated with Ross Stores, Inc. This content is for informational purposes and is designed to offer a platform for reviews and user feedback.
Ross Stores Corporate Office Complaints, Reviews, and Feedback
We encourage you to share your experiences with Ross Stores' products and services. Your feedback in the comment section is invaluable, providing insights that help others understand Ross Stores' operations and customer service.